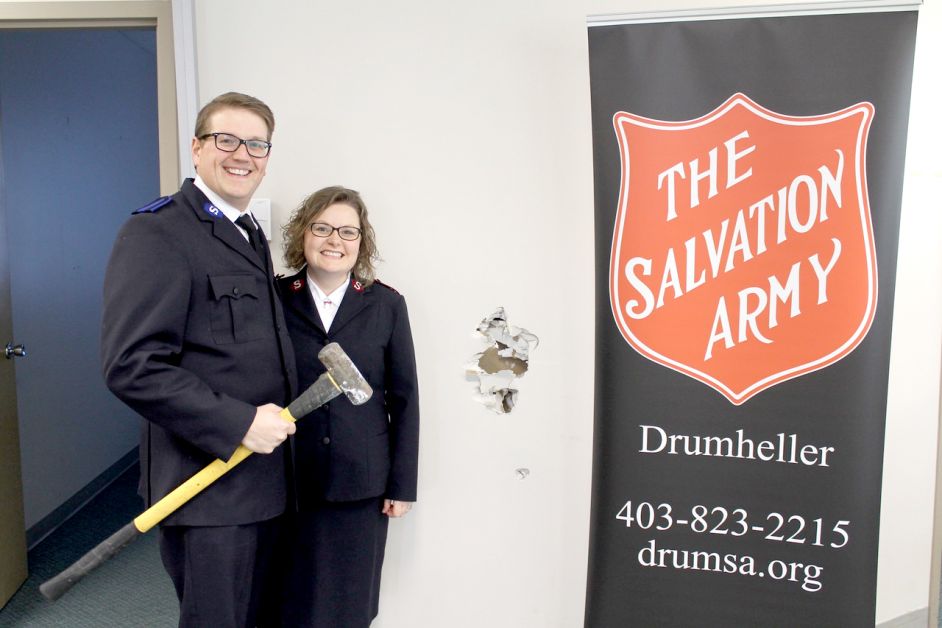 A new chapter in the history of The Salvation Army in Drumheller begins in earnest as the renovations start on its new facility.
The Mail reported in August of last year the church purchased the former ATCO Electric Building at 90 Railway Avenue across from Winks. Last week they toured the facility with the project manager and are ready to begin on the project.
The plan for the new building is to house everything under one roof. This includes the Church, Children and Family Services, the Food Bank and the Thrift Store.
"There is definitely going to be cost savings because we are not leasing space and paying two utility bills and all of those things," said Shane Hillier of the Salvation Army.
Beyond financial savings, he says the efficiencies it will create in serving the community will be vast.
"Even just efficiencies for us helping people. We help family services clients get things through the thrift store as well, so everything will be right there, and so much easier for us," he said.
The new facility will also all be on one floor so access will be improved for those with mobility issues.
The Salvation Army has been looking for a new space for years, predating Hillier's tenure with the local church.
"It has been more than three years. We started on our end in 2016," said Hillier.
The Salvation Army "Opened Fire" in Drumheller in 1918, and will be celebrating its centennial this year. The original Salvation Army Citadel was built that year, but was replaced in 1955 with its new modern building.
"When the church was designed and built, it was designed as a church, but we have moved into family services and the thrift store. So, we have changed how we serve the community and because of that, we need a new space. We have outgrown what we have currently," said Hillier.