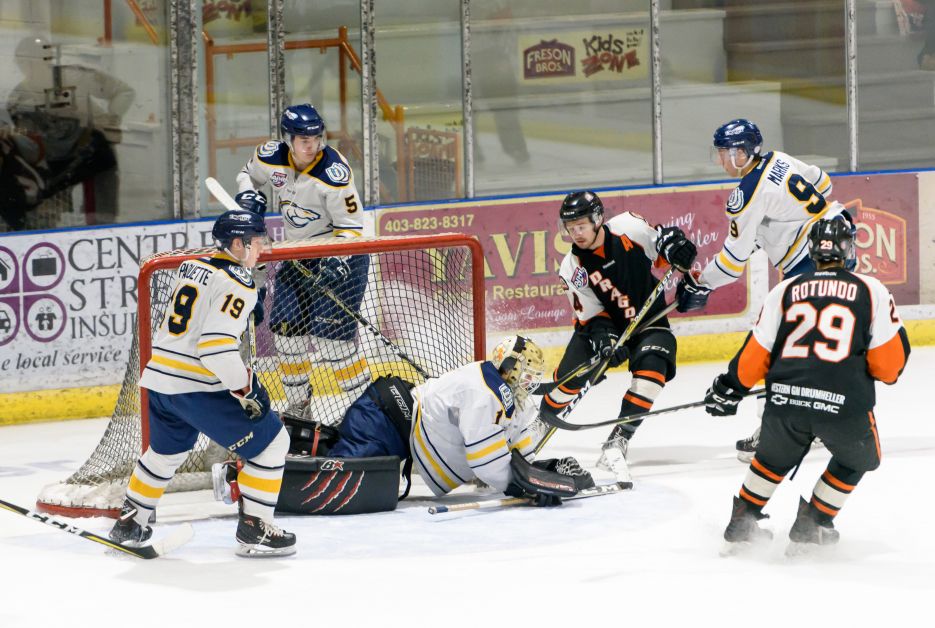 Drumheller Dragons assistant captain Jordan Taupert made the top four nominations for the Alberta Old Time Hockey Players Trophy Most Valuable Player (MVP) Award in the Alberta Junior Hockey League (AJHL).
The League Awards happen on an annual basis. 2017-2018 season awards are to be presented in the following six categories: Most Valuable Player (MVP), Rookie of the Year, Outstanding Defenceman, Top Goaltender, Most Dedicated Player and Coach of the Year.
When asked if Taupert fit the bill for the award, Head Coach Kevin Hasselberg was enthusiastic about his choice.
"Absolutely without a doubt, he's got 20 more points than anybody else on our roster. He's been an offensive catalyst for our team all year and scored big goals when we needed big goals scored and he's committed himself defensively. He's been very coachable and from that he has been a tremendous leader for our locker rooms so undoubtedly he is our team MVP and deserves to be League MVP as well."
Coaches will nominate players they feel are deserving of the awards and then the league will decide who the top four choices are for each category. The winner for each of the awards will be determined through a final stage of voting and announced during the last week of the regular hockey season.
"There will be presentations, I believe the league president or vice president comes to a home game and makes the presentation in front of our fans," clarified Hasselberg.
Taupert is up against Chris Van Os-Shaw of the Spruce Grove Saints, Justin Bernier of Grande Prairie Storm, and Dennis Cesana of the Brooks Bandits.
"He is in tough with all the nominees," said Hasselberg. "They are phenomenal players in our league so we obviously hold Jordan close to our heart and he's got our vote but ultimately the league will decide."
Cale Makar of the Brooks Bandits won the Alberta Old Time Hockey Players Trophy MVP award last year.