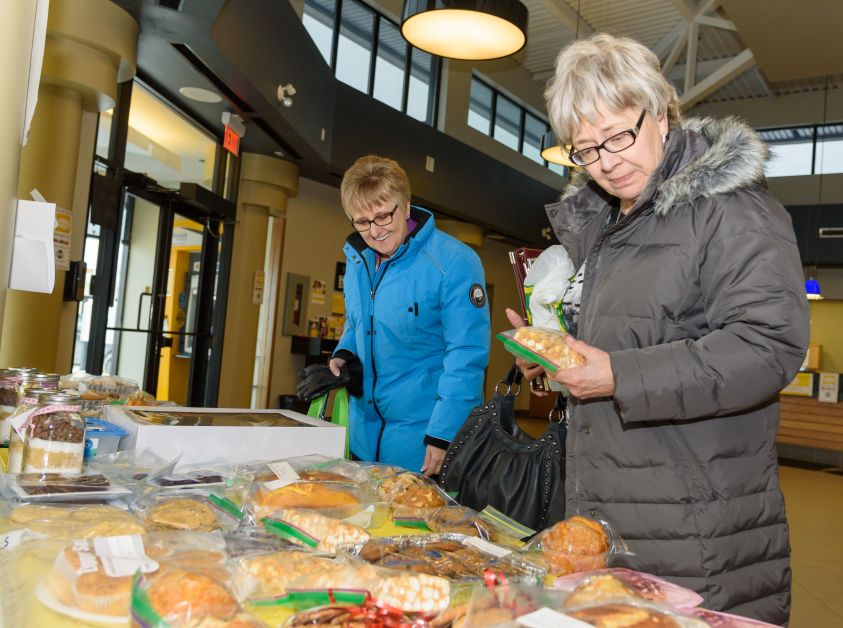 The Drumheller Chinook Financial branch hosted a bake sale to raise funds for the Emma Armstrong Memorial Fund on Monday, January 29.
Hussar, Hanna and Drumheller employees baked and donated the goods resulting in $1218.00 in fundraising money.
"It went fantastic," said Patsy Stokalko, branch manager of the Drumheller Chinook Financial branch. "We had awesome bakers from our Hussar and also our Hanna branch as well."
Chinook Financial decided on a bake sale as many members are known to have above average baking skills.
"We've had good success with the bake sales before and we felt that it was a great opportunity," said Stokalko. "We got some great bakers in the Chinook Financial world and it's just a great way to raise some money for the Emma [Armstrong] Memorial Fund."
The tables were stocked full of an assortment of baked goods.
"We had everything, we had cookies and muffins and cakes and squares, breakfast bars, granola bars, everything was homemade. We got a cake that we're just selling raffle tickets on right now and it's a beautiful cake."
On January 8, emergency services responded to a serious motor vehicle collision on Highway 561, approximately 3 km's West of Hussar where a westbound car collided head-on with an eastbound SUV. 16-year-old Emma Armstrong perished in the collision.
Armstrong was considered a patient and loving person in her short 16 years of life. She grew up in Hussar and was involved in many sports like hockey, curling, figure skating, baseball, badminton, water skiing, surfing, knee boarding and tubing.
She was a natural born leader with an abundance of patience to accompany her sporty, competitive side.
"Ben and Terry Armstrong stopped in and we had a chance to give them a hug and it was thoughtful of them to stop by," said Stokalko. "It's incredible support for the family for sure so I know that it's very much appreciated by them all."
The family has yet to determine where the funds will be allocated. Donations are accepted at any Chinook Financial branch.
"We were really pleased to have an opportunity to help in some small way to show support for the family," said Stokalko.