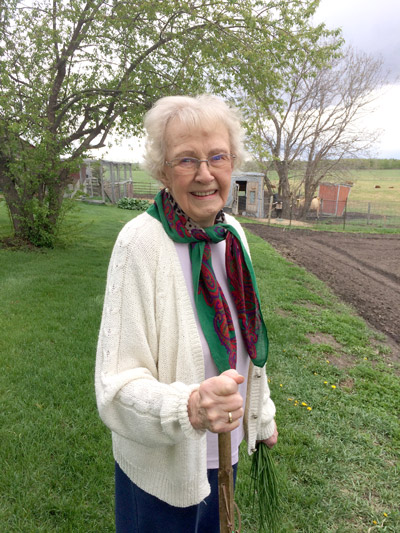 OSMOND
Myrtle Beatrice
November 3, 1924 - January 8, 2018
Myrtle Beatrice Osmond, 93, of Eagle Hill, went to be with her Lord and Saviour on Monday, January 8, 2018. Myrtle was born on November 3,
1924, in Drumheller, Alberta to Theodore and Cecilia Notland. She is survived by her loving husband, Douglas Osmond, her children and their spouses; Bonnie Priestley, Randy (Mary) James, Tyler (Valerie) James, Trudy (John) Goulet-Jones, Shelley James, Karen James and Allison (Sean) Matthews, and her 91 grandchildren, great-grandchildren and great-great-grandchildren. She is predeceased by her daughter Marcia Hoffman. A devoted mother and farm-wife, Myrtle was an excellent cook. She was very hospitable and you would always get a great meal, a good cup of tea and some of her wonderful baking with every visit. Myrtle had an unwavering faith in God. She was involved with Pioneer Girl's Clubs and was a long-time member of the Eagle Hill Community Church. She was very involved with the church, from teaching Sunday school, to playing the piano to administrative duties Myrtle loved playing the piano and was often found playing and singing Hymns. Myrtle will be greatly missed.
A gentle wind blew across the land,
Reaching out to take a hand.
For in the wind the angels came
Calling out a mother's name.
Left behind, her family's tears,
Loving memories of the years
Of joy and love, a life well spent,
And now to God a mother sent.
On an angel's wings, a heavenly light,
The journey home towards the light.
To those who weep, a life is gone,
But in God's home 'tis but the dawn.
A funeral service was held in Eagle Hill on Saturday, January 13, 2018.