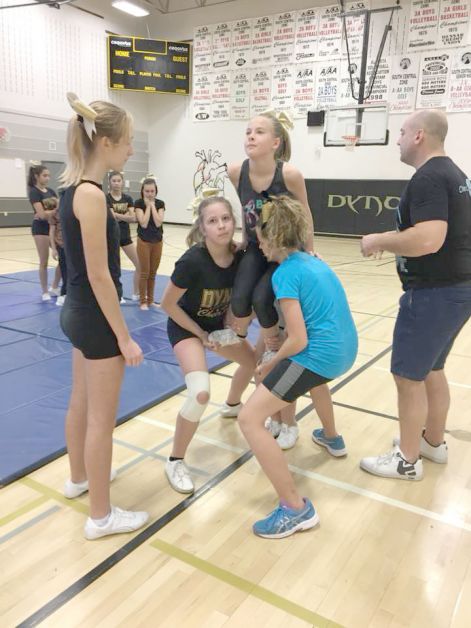 The Dynos cheer team has an exciting year ahead of them as their first competition soon approaches on January 13.
This particular competition will be held in Medicine Hat to kick-off the competitive side of the season.
"We have been practicing our stunting, our routine, and our dance for our competition," said coach Marquita McNeice.
Each year, the routine changes but remains consistent throughout the season.
"We hopefully get better and better every time, that's the whole idea," said McNeice. "This is going to be their first one and it's always a test but I feel that there's nowhere to go but up from here."
The team has not only females but also a single male.
"We have incorporated him and he is an amazing flyer; just an all-around unbelievable little athlete," said McNeice. "He really adds to the team."
A flyer is the person who is lifted into the air, often becoming the centre of attention. They tend to be the smallest member of the team but must also maintain a high level of skill to completely perfect the stunt performed.
Tim Hydzik of the University of Alberta cheerleading team has made a career in the sport. The juniors were given the chance to work with him on how to make a strong impression at competition.
"When Tim came down from Cheerific out of Edmonton, he was helping the girls with their stunting and cleaning up their motions and everything that they need to have a good routine," said McNeice.
The routines can also range in complexity.
"Everybody on the team has to be able to do every position like they can be a flyer, a base, a back spot, but they all have to be able to do all of the positions in case someone is away," said McNeice.
Next year's Grade Nine students will have the option to launch a Senior High team under Alberta Schools Athletic Association (ASAA) rules.
McNeice has also noticed how well her team is progressing in training sessions. The highlight being the mentorship between rookie and veteran.
"They are actually doing amazing because last year at this point in time it was a totally different ball game," said McNeice. "These girls, a lot of them have been here since last year so they know a little bit more so it's nice that they have more experience."
The cheerleading season ends in April 2018.