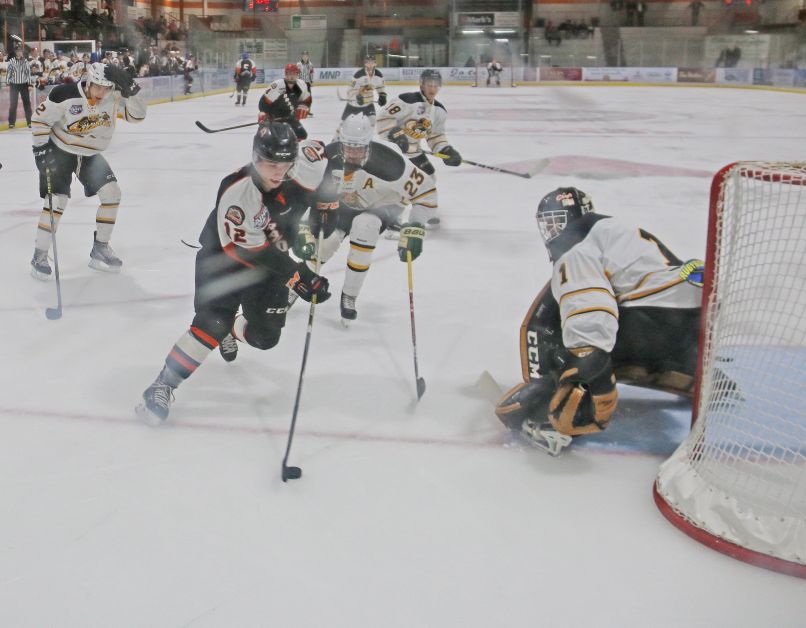 The Dragons showed continuous improvement as they battled their way through the preseason, and are now set for their home opener this Friday.

The Dragons hosted the Olds Grizzlys on Wednesday, September 6, and won 5-3 pushing their preseason record to 4-0 and outscoring their opponents 25-15.

On Friday night, September 8, they hosted the Brooks Bandits and then traveled to Brooks on Sunday for a matinee game.
These games were a lot closer as the Dragons won Friday 3-2, but fell 5-4 in overtime Sunday.

They ended the preseason 5-1. Coach Kevin Hasselberg says he like the progress the team has made.

"You have to learn to be a good team in all situations, and this last game in Brooks was a situation that served our team very well and we are extremely happy with the results moving forward even though we didn't end up on the right side of the score sheet.

We learned a lot about each other and something to build on moving forward," said Hasselberg.
Drumheller has a long history with the Brooks Bandits, and this game served as a starting point for the team in its progression.

"We feel that any of our players can compete with anybody now, and it is just about getting better every single day," said Hasselberg. "That is our goal and that is what we want to do, and I know the players are building for that as well and excited to be a part of that."

The Dragons officially open the regular season this Friday at home versus the Camrose Kodiaks. For Hasselberg, he wants his team to focus on the basics.

"The game is so simple, we just have to make sure we are playing hard consistently over the full 60 minutes of the game, and we are playing on the right side of the puck," he said. These are two things we are really focused on right now. I know the players are going to work hard this week in practice and the coaching staff is going to be working just as hard. Our goal is to be better than our last game and I know our guys are ready to do that."