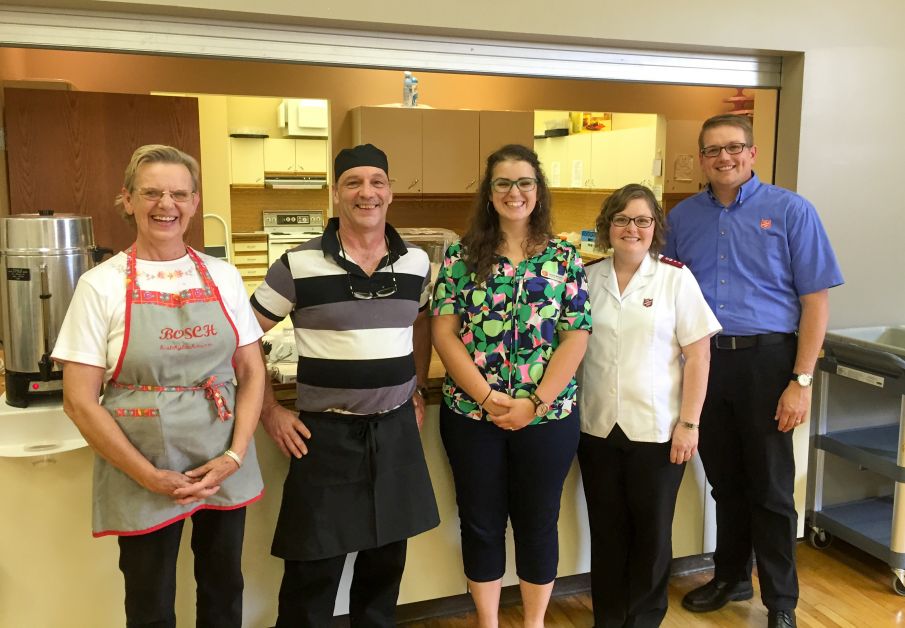 Volunteers Dianne Snyder, and Dwight Constable join Jennessa McAuley Community and Family Services worker with the Salvation Army, Captain Jennifer Hillier and Shane Hillier of The Salvation Army in opening Sally's Social Cafe, aimed to bring people together for lunch and fellowship each Wednesday at Knox United Church.
(Mailphoto by Patrick Kolafa)
The Salvation Army has found a great way for people to get together and have an inexpensive lunch.
On Wednesday, June 28, Sally's Social Cafe was launched. Going forward, Knox United Church each Wednesday from 12:30 p.m. to 2:30 p.m., will be the place to come for lunch and enjoy other people's company.
"We want to build strong community connections," said Captain Jennifer Hillier of the Salvation Army. "It is open to anyone in the community."
While it provides a nutritious lunch each week for just $3, Hillier says the goal is more to bring people together.
They have assembled a strong team of volunteers to make it work, and have also enjoyed some great donations to get it up and running. They could always use more volunteers.
"There will be some board games available for people just want to stay and have some fellowship time, some fun, laughter," she said.