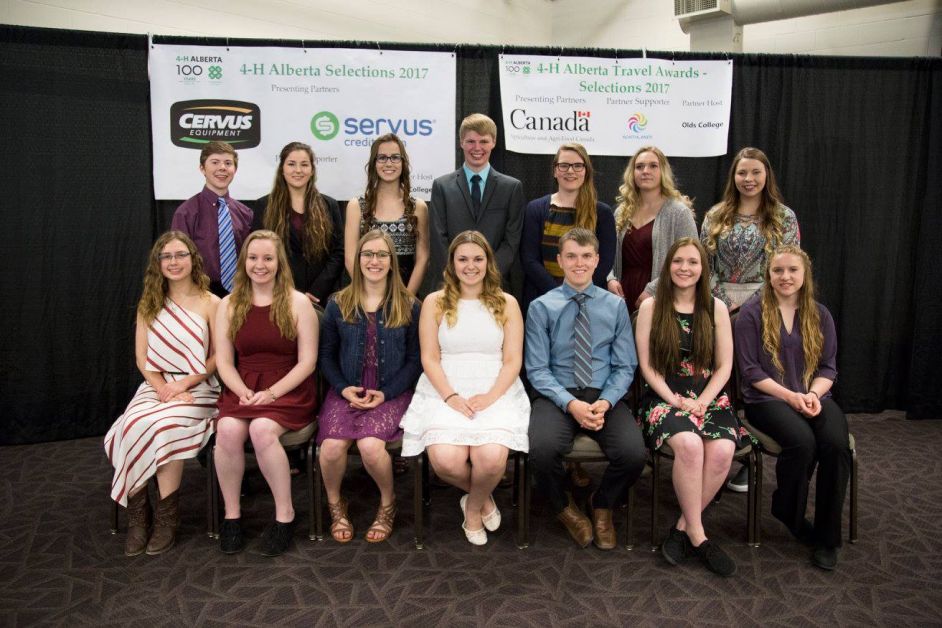 Featured far right in the back row is Quinn Nelson of Morrin, Alta. Also shown from l-r: Back row: Dawson Pahl, Odessa Kopp, Kelsey Haggerty, Wylie Pietsch, Heather Taylor, Jamie Kuzma. Front row: Sarah Tkach, Nicole Kraus, Haley Dechaine, Makayla Chamzuk, Emmett Sawyer, Jaycee Reimer, and Alyssa Henderson.
Quinn Nelson of the Morrin Multi 4-H Club was named one of two East Central ambassadors on May 8, 2017 in Olds at 4-H selections.
Nelson was also selected for the Premier's Award (PA) group during the four-day event. To become a PA group member, means the recipient has the possibility of winning the most prestigious award 4-H has to offer; the Premier's Award.
This year, Alyssa Henderson of Bashaw, Alta., was the PA recipient.
4-H is an internationally recognized youth agriculture program with multiple different aspects like events, projects, meetings, camps, and exchanges.
Selections is one of the many highlights in a senior members 4-H career. This event determines who has the ability, commitment, and positive personality that embodies the 4-H spirit to continue to represent the worldwide program.
This years theme was 'Marketing Me' where small groups focused on cover letters, resumes and business skills for when they are out of the house.
"It's a great opportunity – really beneficial for those who attend," said Horner.
An ambassadorship consists of two years of planning and attending events, being available for questions, and provide a positive outlook while simultaneously representing the 4-H world.
"We always have a good set of ambassadors – they always do a good job," said Horner.
As well as ambassadorship, members are eligible to win national and North American trips based on their attendance, evaluations, quiz, and diary points.
In order to win, Selections has a process where members are divided into small groups and evaluated by peers and supervisors. Games and leadership activities are apart of the camp and also team building exercises, presentations, and resume evaluations.
"Their recognized for their leadership, communications, and development skills so that is what they have to be in order to be a successful ambassador," said 4-H communications specialist Cameron Horner.
On the Monday morning, the trips, ambassadorships, Premier Award (PA) group, and PA recipient are announced during a special breakfast with agricultural dignitaries.
In addition to ambassadorship, Nelson will be embarking on the Northwest Territories agriculture and development tour alongside 22 other 4-H members this summer from July 20 to July 30. Gleichen local Jourdyn Sammons will also be on the trip as one of those 22 members.