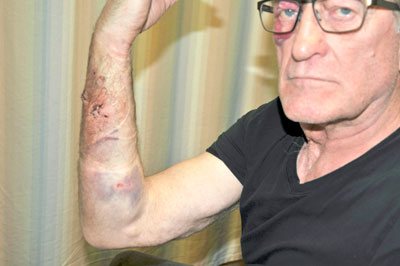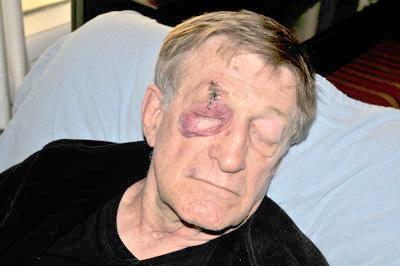 A Standard man credits a neighbour for saving his life after surviving what he describes as an unprovoked attack by two pit bulls.
Moe Zaleschuk is recovering from injuries he sustained on New Year's Eve when two dogs in his neighbourhood attacked. He said he had never met the dogs before this day.
"I was walking west, and they came from the west. They caught me, pulled me down and attacked me," Zaleschuk tells The Mail.
He sustained puncture wounds to the top of his head, and his right eyebrow and eyelid were punctured. He was also bit on his right shoulder, his left arm above his elbow, as well as his buttocks and crotch.
The worst injury was to his forearm.
"The dog was pulling on my arm, and I was trying to keep my arm attached. There is a hole, larger than a toonie and you can see muscle that was torn out," he said. "The doctor had to put five stitches inside, and another 11 stitches on the outside."
He said thanks to a neighbour, the attack was stopped.
"A gentleman came out of his place, on his way to the Co-op and saw the dogs attacking. He came over, and kicked one dog, and then the owner came by and took the dogs away," said Zaleschuk.
"Mike Van Den Broek, I believe that he possibly saved my life. The doctor said if the attack had continued for another minute or two, I probably wouldn't have made it," said Zaleschuk.
He was taken to the hospital and has since returned numerous times for treatment and to have antibiotics administered intravenously. He has also received physiotherapy and counselling for trauma.
"I have only had two good night's sleep since this has happened. My wounds are healing really well, but mentally I have flashbacks," he said.
The dogs were initially returned to the owner, but after Zaleschuk presented his statement and photographs to the Wheatland County peace officer, they obtained a court order to have the dogs taken for assessment. They have both been put down. Zaleschuk said so far the RCMP have not brought forward any charges. He has had no contact with the dog owner.
"It wasn't a happy ending for 2015, it is something I will never forget," he said.
This week's poll question is: Should certain breeds of dogs be banned? Have your say Click Here to Vote