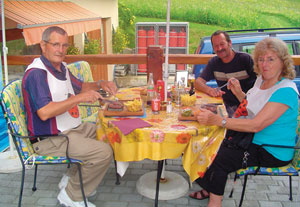 After 56 years, a Drumheller man made his way back to the place he was born.
Bernie Fournier was born and raised in Switzerland. This summer he travelled back with his sister to the place of his birth, one that his father left when Bernie was just 12.
"I thought it would be good to go back again and visit relatives," was his simple answer when asked his motivation.
Last November, he and his sister booked their tickets to travel back to a small village called Beuson in a valley called Nendaz, in a French area of the countryside. They left on June 16 and Bernie returned to the valley on July 7.
"I still have two uncles and an aunt who are in their eighties, and a whole pile of first cousins, I met so many I can't remember them all," he laughs. "We had a big family on both sides."
A few of the cousins and relatives he remembers from his childhood. He also met up with a boyhood chum.
Fournier said the family came to Canada in 1952. His father had visited two years earlier, and was convinced to immigrate by his brother who had already settled in Montreal.
Fournier was married, and in 1980, he left Ontario where the family settled and headed west with his wife Joy, and sons Tom and Norm, and came to the valley. Bernie went to work in Red Deer, while his sons built careers and families in the valley.
In 2004 Fournier retired and moved back to Drumheller.
Despite the half century that has passed since he set foot in Switzerland, he says the memory of the valley was vivid.
"As a kid I thought the valley was bigger," he said. "The village is still the same, although there are a couple new houses."
He managed to have an enjoyable stay, mind you, the first week was the most memorable as he wasn't sick. In fact he spent 4-5 days in the hospital. His wife Joy did not accompany him on the trip.
"I was worried sick … it's sure good to have him home," he said.
Overall he is happy he made the trip.
"I just want to see relatives, and see what I could remember," he said. I was the only one in the family that had not gone back, and I didn't want to be the black sheep."