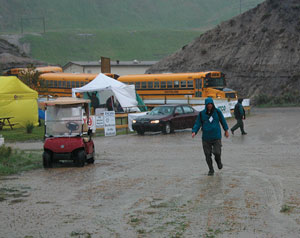 The organizers of Beethoven in the Badlands had all their bases covered, they just couldn't get Mother Nature onside, as rain called off the event for the first time.
The cancellation of the event on Saturday, June 7, at the Passion Play Site, was not without careful consideration.
The plug was pulled at about 1:30 p.m., after consultation with the president of the Calgary Philharmonic Orchestra (CPO) and a meteorologist who was onsite to monitor the weather.
"It wasn't just the rain," said event chair and Rotarian Jay Garbutt. "If it was just a comfort thing, the show would have gone on."
"We were hopeful right up to the end."
He said the biggest concern for patrons, and the final decision to cancel, came down to safety. The entrances to the amphitheatre and the water coming off the surrounding slopes made it treacherous for people to navigate. Lightening and hail didn't help the situation.
There were no reported injuries onsite.
"It was a disappointment," said Garbutt, "but we have so much to be proud of, we were well prepared to stage the event."
"I am immensely proud of the volunteers. They were still at their posts while the hail was pouring down on them."
The CPO arrived on site, but did not exit their bus as the rain and hail poured down.
Garbutt said this year's Beethoven in the Badlands had the most anticipated lineup in the history of the event. They had a very good number of artisans on site, and the Polyjesters were able to complete their set before the storm ushered them off.
Despite the rain, about 1,300 patrons came out, and tickets were being sold up until the minute the show was cancelled.
Local ticket sales were also strong.
Garbutt explained there is no chance of the event being rescheduled. Beethoven in the Badlands is the last performance of the season for the orchestra, as they are now unavailable. The Rotary Club had event insurance, which means they will not be in a loss situation for the event. Neither will ticket holders.