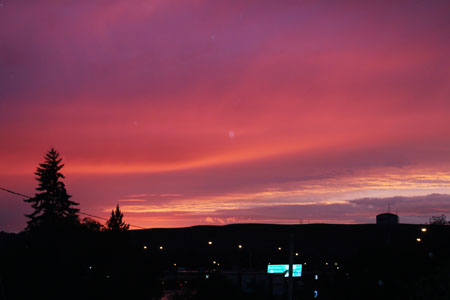 Photograph Sunday evening taken behind the Quality Hotel (formerly the Drumheller Inn) looking toward Elim Pentacostal (the old Central School).
Air flow is pushing smoke from the fires in the Northwest Territories over parts of the prairies, inclluding Drumheller.
Forest fires in northern Canada are responsible for the smoky haze that has been lingering over the valley.
"The majority of it is from fires in the Great Slave Lake area in the Northwest Territories. The flow in the upper levels have been out of the north/north-west the past couple of days, and that has pushed all that smoke from that location down into a significant portion of the prairies, including the Drumheller area," said Bill McMurty, Environment Canada Meteorologist.

McMurty said the air flow is expected to change to more of a southwest direction later today (Tuesday), that will push the smoke from the Northwest Territories off to the east, so Drumheller should see clearer skies over the next five to seven days.