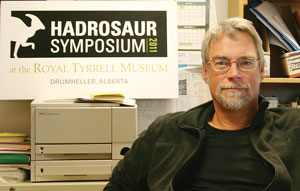 Next week, scientists the world over will descend upon Drumheller for the Royal Tyrrell Museum's biannual symposium being held September 21 to the 24.
Previous meetings have focused on the fossil riches of Dinosaur Provincial Park, ceratopsians (horned dinosaurs), and fossil turtles. The subject this year is the hadrosaurs, which are herbivorous dinosaurs that lived during the late Cretaceous and are characterized by their duck-like bills.
"It's paradoxical that hadrosaurs are among the most abundant of the dinosaurs here in the Drumheller Valley, Western Canada, and right through the United States and Northern Mexico," explained Dr. David Eberth of the Royal Tyrrell Museum, "and when compared to other groups like ceratopsians and meat eating dinosaurs, it ironically ranks as having the least amount of research."
Despite the comparatively low number of research projects done with hadrosaurs, renewed interest in the group is generating new ideas.
"We wanted to corral some of those ideas and present them here," said Dr. Eberth. "I'm personally looking forward to efficiently spending two days learning the latest research about hadrosaurs."
The symposium pays special recognition to the achievements of hadrosaur specialist Dr. David Weishampel of Johns Hopkins University. A dinner will be held on September 22 in his honour. Dr. Weishampel originated the idea that the crest on the head of some hadrosaurs, such as Parasaurolophus, may have been used to generate sound.
So far, nearly 60 scientific presentations are lined up for the symposium, including research from Argentina, Belgium, China, Mexico, and Mongolia.
Not only will the symposium have presentations from well known palaeontogists, students will be presenting their research as well. Dr. Eberth highlights the importance of small symposia, "It's a great opportunity for the students to mingle with well established scientists."
Dr. Eberth stresses that the symposium is not restricted to the scientific community and anyone is welcome to attend. "We like to see a blending of dinosaur enthusiasts from the public and give them the opportunity to mingle with the scientists and ask any question they want."
Registration for the symposium is still open, and those interested can find more information and register on the Royal Tyrrell Museum's web site, www.tyrrellmuseum.com.