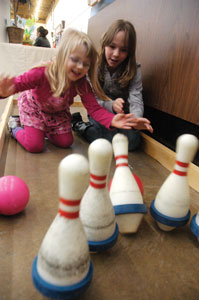 The next Sports, Recreation and Arts Expo is scheduled for Wednesday, September 7, at the Drumheller Stampede Grounds.

    This is the "kick off" for registrations for all sports, recreation and arts activities for children, youth and adults in the community. There is also opportunity for organizations to showcase their activity in the designated demonstration area.
    There are new features to this year's show. Cathy Smoliak with the Town of Drumheller said, "We have made some changes to make the show even bigger and better. One of the new features will provide our exhibitors with 10 x 10 draped booths, 6 foot skirted tables and poster boards, supplied by Global Experience Specialists.
    "This new feature will provide us with the necessary equipment and floor planning expertise required to give all exhibitors access to the main floor area and showcase their organizations more effectively."
    The Sports, Recreation & Arts Expo is an ideal opportunity for the community to become more informed of the many activities available in our area. Individuals will be able to ask questions and register for activities all in one location.
    If you are involved in sports, recreation or arts, be sure to attend this expo as an exhibitor or as an interested person or participant in recreation and culture.
    This is a free event sponsored by the Drumheller Gymnastics Club, Town of Drumheller, 99.5 Drum FM, Drumheller Online, Global Experience Specialists, Q91, The Drumheller Mail, the Drumheller Stampede and AG Society and Strings and Things.
    Organizations interested in participating in the Sports, Recreation and Arts Expo may register by calling Judy at the Town of Drumheller at 403-823-1324.
    Exhibitors should register as soon as possible. For more information please go to www.dinosaurvalley.com.