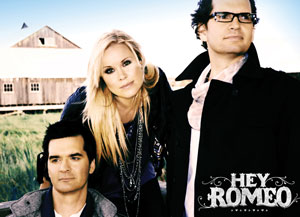 On July 27, it was announced that country music trio Hey Romeo has been nominated for six Canadian Country Music Awards.

    The group received a nomination for Group or Duo of the Year, and in the All Star Band Awards category, Darren Gusnowsky was nominated for guitar and Rob Shapiro for keyboards. Fans will know that Drumheller native Rob Shapiro was also named Keyboard Player of the Year at the 2009 CCMAs.
    For their most recent album 'That's What I Am', Hey Romeo and Nashville songwriter Byron Hill were also nominated for Record Producer of the Year. The band's other nominations include Album Design of the Year and Website of the Year.
    Hey Romeo is an Alberta-formed country music collective made up of Stacie Roper, Rob Shapiro and Darren Gusnowsky. This year's CCMAs will be broadcast on September 12.