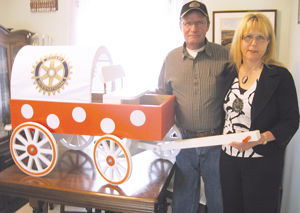 Dale and Karen Hunter built and contributed this made-to-scale chuckwagon to be auctioned at this year's Rotary Radio Auction - October 19 and 20.

    The miniature version of the Colt Cosgrave chuckwagon will be a feature auction item. Thanks to Dale and Karen Hunter of Didsbury. The former Drumheller residents have manufactured the wagon to 'Help Rotary Help the Community.'
    "This item is sure to attract a lot of interest. We anticipate individuals, organizations and businesses will be stepping up to place bids for this very special item," says auction committee member Jim Fisher. "If the buyer so wishes, the Rotary signage can easily be removed and the buyer can then place their specific logo and name on the canvass for public display."
    The bi-annual auction is one of the fundraisers the club promotes in order to assist in community projects. "The auction depends on the support of the public. Bidders will be able to listen to the radio and phone in their bids or come on down to the Greentree Mall and bid in person. The success of the auction relies on participation by the entire region," adds Fisher.
    Businesses providing an article receive advertising estimated at a minimum of $300 as auctioneers promote both the item and the business. Rotarians will be visiting businesses shortly to arrange for articles to be placed in the auction.