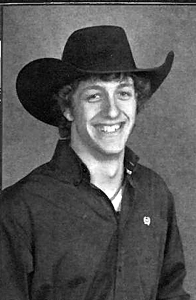 A Carbon man took first in the Novice Bareback Championship at the Calgary Stampede this past weekend.

    Cole Goodine, 21, was awarded gold in a close battle on the clock after winning the qualifying round on July 8 with 79 points. On Saturday, July 16 Cole scored 76.50 for a combined total of 155.50 coming in 0.50 over Clint Layne of Cadogan.
    Cole was presented with the bareback trophy on the Grandstand Stage with over 25,000 spectators, among those watching were his proud parents Doug and Judy Goodine.
    "It was very exciting and very tight. Every boy that rode did fabulous that day," says mother Judy. "He managed to out do them by just a little."
    "Doesn't get a whole lot better than this," says Cole, who has been riding for four years.
    "At the end it came down to half a point, I'd say it was pretty close."
    This is Cole's last year of eligibility for novice, but he will be in the open competition next year.
    Cole currently lives in Whitecourt and works for an oilfield company. His family moved to Carbon when he was four, where he'd been ever since until a few months ago.