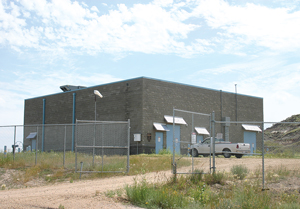 Rocky View County is hoping to make better use of its allocated water from the Drumheller water treatment plant.

    Rocky View County is a partner in the Kneehill Regional Water Services Commission and has an allocation of 2,200 cubic meters/day of water it is not currently utilizing. Drumheller town council is looking into relaxing its current geographical restrictions for the water to allow Rocky View County to use the water for economic development.
    Mayor Terry Yemen explains that currently water is delivered through the Kneehill Regional Water Services Commission water lines as far as Beiseker and Irricana. He said Rocky View is asking to allow the water to be used throughout the whole MD for economic development.
    "This will give them an opportunity to develop more of their MD, because of course water is a problem there," said Yemen.
    One of the issues the Kneehill Regional Water Services Commission has been dealing with is the low flow of water through the lines, which has made water more expensive and take more treatment. By Rocky View using its allocation, it will increase flow. It will also benefit Drumheller residents as the town will be able to realize revenue for the water that is currently not being used. He understands that it may be a year before the taps are turned on.
    "It is good for Kneehill, it is good for its partners and certainly good for the people of Drumheller," said Yemen. "If they start using that allotment hopefully our water rates go down. If not down, we would be able to build a reserve, and not on the backs of taxpayers."   
    Mayor Yemen said he has assurances the water will be returned to the Red Deer River Basin and that there will be no increases in allocation coming from the Town of Drumheller.
    "They didn't ask for any more but I did qualify that with them, that it is capped at 2,200. I told them 'This well is dry after that, don't come back looking for some of our reserve, because it is ours,'" said Yemen. "The only way they could increase it is to go to Kneehill and use some of their allotment."
    He said no matter what water they end up selling through various projects, they will retain a reserve for growth of the Town of Drumheller.
    "We are not going to sell that farm. We are looking at 70 per cent capacity, that extra 30 per cent will always remain for our growth, and 30 per cent of that plant is one heck of a lot of water," said Yemen.
    He said providing the water to Rocky View will not put the plant output near 70 percent, and it will not require any extra manpower or operational hours of the plant.
    Right now the proposal is at the discussion level and no decision on any changes has been made.