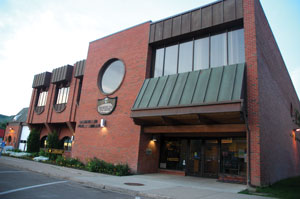 A needs analysis and preliminary design will start in one week for the relocation of town hall to the current library location, as council awarded the contract to an architecture firm at their council meeting last Monday.

    "It was a mixture of cost, experience, their proposal, and their availability," said director of corporate services Michael Roy about why Group 2 Architects was chosen for the project. "They have worked on a number of town halls."
    The needs analysis will decide how the future base of town operations will fit into the building. Roy says there is more room for town hall to operate in, something they are in need of at the current location at 2nd Avenue West.
    "We'll be making sure we can maximize the space, review what we have in there in the way of heating and air conditioning to get a rough estimate on the cost.
    The analysis was awarded to the firm for $28,600.
    The relocation project will be included in the 2012 Capital Budget.
    As for a wishlist for features in the new space, the town only included a council chambers, administration office, mayor's office, community services, a staff room area, "nothing elaborate, just a scope of what we'd like to see addressed in it," says Roy.
    "The 'wishlisty' stuff will come up when we start having discussions with users. We have to get down to what's achievable and what's realistic and cost effective."
    In the future, if there's a need for more space, there is an option to use space where the park sits near the library building.
    Roy believes there will be enough space for town hall to operate comfortably at the new location.
    "This building (the current one) is eaten up with hallways and bathrooms. We do need more space right now, we've had people working in the equipment room. We could use more space for storage of files.
    "Even with those needs we should be able to fit within that skeleton that's there."
    There is less wall space at the library, and there's more usable space, he says.
    Roy says the analysis could be finished by November.
    After the needs analysis is completed and a preliminary design is drawn up, it will go to council for consideration and for the town's 2012 Capital Budget.