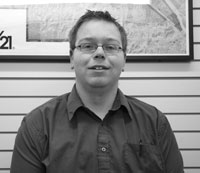 Age:
25
Employer:
Century 21
Job title:
Realtor
Do you like your job, and what do you like about it?
Yes I do, it gives me the chance to meet lots of new people and to help them find a house
Hobbies and interests?
Golf, soccer, hockey, reading, video games
What's a good book you've recently read?
Outlies by Malcom Gladwell
Dreams or goals?
Marry Amanda Bynes, and to travel
Where in the world would you travel?
Probably take a long road trip and watch an NHL game in all 30 cities
Favourite NHL team?
Colorado Avalanche
Favourite food?
Deluxe pizza, the more stuff the better. Except pineapple. I question why people do that
Favourite movie?
Goodwill Hunting, The Simpsons Movie. Both Ghostbusters movies are pretty funny and Office Space is a classic
Favourite music?
Weezer, The Killers, Jimmy Eat World, The Arcade Fire, Queen
If you had a time machine, where and when would go?
Travel back 26 years to warn my parents what they were getting into
If you were on a desert island, what would be the one thing you'd bring?
My laptop with an internet connection
If you could have dinner with anyone dead or alive, who?
Warren Buffett because I could learn a lot from him
Favourite quote?
"You'll have to speak up, I'm wearing a towel"
What would be your last words?
I had a good run