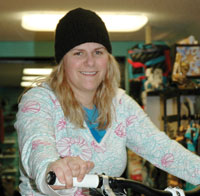 Age:
25
Employer:
Shredz
Title:
Manager
What do you like about your job?
It's open at 11, and I like being able to work at my own business.
Hobbies?
Snowboarding, downhill mountain biking and scrapbooking.
Favourite food?
Salmon, and the Vietnamese Noodle House.
Favourite movie?
P.S. I Love You.
If you could travel anywhere in the world, where?
Back to a Scandinavian country, and Scotland because that's where my heritage is.
If you could have dinner with anyone, dead or alive, who?
The Eagles and The Beatles, together. I have always wanted to see them in concert.
If you had a time machine, where and when would you go?
To the 1960's, to be in Washington while Martin Luther King spoke.
Favourite childhood memory?
Spending time at Pine Lake with the family.
What would you be doing, if you weren't doing what you're doing?
Working with youth, maybe a counsellor. Or taking that job of blogging on an island near Australia.
Words to live by?
Always smile, think positive, and have fun.