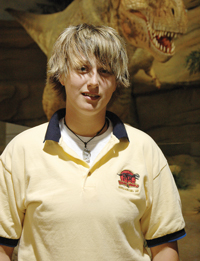 Age: 21
Employer: Fossil World Discover Centre
Job title: Retail Supervisor
Do you like your job? Yes, it's fun, I get to spend days teaching kids about dinosaurs and fossils.
Are you from Drumheller?No, moved here from Edmonton in April.
Hobbies and interests? Hockey, and snowboarding.
Dreams or goals?Eventually own my own business. I'm going to study business in school.
Favourite food? Seafood, or anything edible.
What's in your CD player? House techno and dance music.
If you could have dinner with anyone, dead or alive, who? Ellen Degeneres, she is so wicked.
Dream car? Chevy SS.
If you were stranded on a desert island and could only bring one thing, what would it be? My bestfriend, I wouldn't want to be alone.
Words to live by? Pay it forward.
Where in the world do you want to travel? Anywhere basically, but Australia because I love the accent and I'd learn to surf.
If you had a time machine, where and when would you go? Any place in the future, to see the things that are going to be; hovering cars and stuff.
How do you take your Tim Horton's? Double double. I'm also unimpressed how there is no Timmie's in Drumheller.