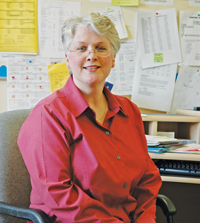 Age:
Almost 40
Employer:
Greentree School
Job title
: Associate Principal, Grade 5 homeroom, and French Second Language for Grades 4-6
What do you like about your job?
The friendly staff, and building a repitroire with kids I get to see everyday
Hobbies and interests?
Gardening, skiing, reading.
Dreams or goals?
Complete my masters of education and travel with the family.
What's a good book you've read recently?
The Leader in Me by Stephen Covey
Favourite food?
Any kind of Italian
Where in the world would you travel?
Australia to visit my sister, or return for a trip to Europe with my husband
Favourite music?
Contemporary music, The Killers are in my CD player now
If you had a  time machine, where and when would you go?
Medieval times in England or France, to watch history unfold
If you could have dinner with anyone, dead or alive, who?
My husband, because we are so busy
What would you serve him?
Perogies and cabbage rolls
Dream car?
Anything environmentally clean
Words to live by?
Live for the moment
If you could meet anyone, who'd it be
? My kids would love to meet Jarome Iginla of the Calgary Flames
If you could bring one thing to a desert island, what would it be?
A first aid kit, anyone that knows me knows I'm accident prone