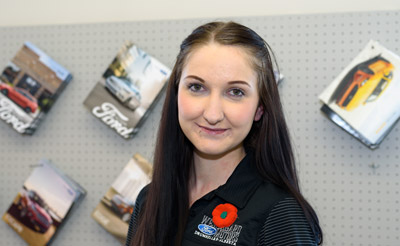 Who are you?
Kaylin Neufeld
Where are you originally from?
I was born in Olds, lived mostly in the Red Deer area and then moved to this area because of a boy.
Who is your employer?
Westergard Motors.
What is your occupation?
I am a Service Advisor.
What do you like most about your job?
Not actually getting my hands dirty, being one of the guys in the back of the shop getting their hands dirty with oil
and that I actually get to sit in a chair and interact with customers and fix their vehicles hopefully so it's rewarding.
What is your dream job?
Being a service advisor. I've been doing this for six years so it's kind of like easy and familiar. Wherever life takes me.
How long have you lived in the area?
Almost three years. I'm in Hanna.
What sort of activities do you like to do around the community?
Oh, I love going to the dollar store. That is my favourite.
What are your top three travel destinations?
I always love going to B.C., it's cheaper than going province to province. I've always wanted to travel to Ireland. Jamaica would be great. Pretty much anywhere that doesn't have snow would be fantastic. No complaints.
What do you like to do while on vacation?
I hope I wouldn't bring my cellphone but I know I would because I didn't last time but I'm sure I would this time. I'd hope to relax. Go out of my way and eat weird food.
If you could hang out with anyone dead or alive, who would it be? Why?
That's a good question because it would be Selena Quintanilla. She was a Mexican American singer who died back in 1995. She was shot by her assistant at the time. She's still to this day widely known. She just got her Hollywood star after 20 years.
Choose one thing to eat for the rest of your life?
Bacon.
What is your favourite movie?
Twister. It's really good.
If you were making a movie about you, which actress would play you?
That chick from Blindspot. Jaimie Alexander.
Skiing or snowboarding?
Neither. I can ski but not very well so there will still be blood.
KA
A lot of the time I actually tell my coworkers this; leave it at the door. Don't take your junk to work, just check yourself at the door.