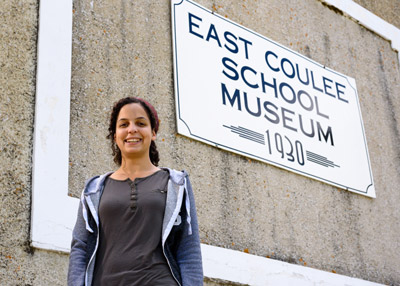 Who are you? Rebbekah Ogden
Who is your employer?
Barb Steeves.
Where do you work?
I work at the East Coulee School Museum.
What do you do there?
I am an interpreter as well as I cook in the little cafe as well as serve and clean and do everything.
What do you like most about your job?
I love cooking soups. So I love it when I'm in the cafe and get to cook.
Where are you from?
I'm from Saskatchewan, a little town called Invermay, It's an hour west of Yorkton.
What brought you to the valley?
I am going to school in Rosebud right now. I'm taking theatre arts so it's anything to do with theatre.
What is your top travel destination?
New Zealand or Australia.
What would you do there?
They have those glow worm caves.
If you could travel through time, when and where would you like to visit?
I think it would be like during the Scotland time with Cornwall or something like that when they were getting invaded by the English. Maybe a bit before then.
Choose one thing to eat for the rest of your life?
Chicken because I can probably cook it several different ways still.
Do you have any favourite books?
I have a favourite author – Lynn Austin. Not Jane Austin, Lynn Austin. She writes a lot of historical fiction from all sorts of periods.
If you had a superpower, what would you have?
The ability to breathe underwater.
Lastly, do you have any words of wisdom to give?
Be yourself and enjoy life but most importantly make the most of it.
Know someone who we should get to know better?
Please give us a call at 403-823-2580 or
e-mail: news@drumhellermail.com