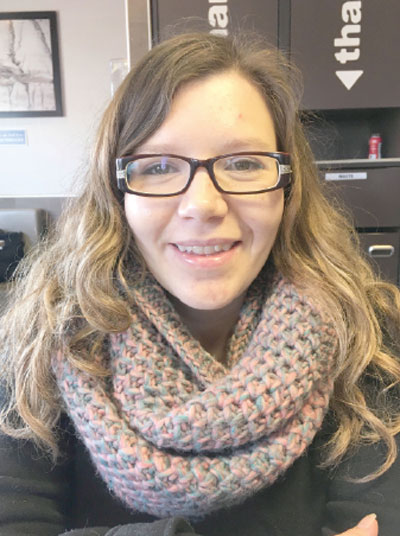 Employer:
I work full time as a Darts practitioner. I also volunteer as president and fostering coordinator with the Drumheller Humane Society.
What is your favorite part about your job?
I love animals and have met some really good people. I love working with dogs and seeing the success stories of when they come from bad backgrounds and end up in good homes.
What is your dream job?
My dream job is being a school counsellor with any age.
How long have you lived in The Valley?
I was born and raised in Drumheller but have gone away for school. I always come back.
What do you like about The Valley?
The people. There are a lot of good people here.
If you could pick anyone present, past or future who would you pick and what would you ask them?
I would want to spend the day with my grandma and I would ask here what the meaning of life is.
What kinds of activities do you do around The Valley?
I do lots of fundraising such as a drive home service and help with catering events. I volunteer at my daughter's school. I also do lots of dog meet and greets for the Human Society. I love to sing. I used to sing a lot when I was younger.
How many children do you have?
I have one daughter who is 6 and am due to have a baby January 24
What are your favorite movies?
Nightmare Before Christmas and Alice in Wonderland. Basically any and every Tim Burton movie.
If you could only eat one thing for the rest of your life, what would it be?
Tacos!
What would the theme song of your life be?
Can't Slow Down by Hedley
If there was a sound or song that went off every time you entered the room (like Darth Vader has) what would it be?
It would probably be dogs barking. I spend so much time with animals.
What do you do for date nights?
We go out for supper to Sublime.
What is your dream date?
I went to Ireland when I was younger and my dream is to go back to Ireland, maybe for our honeymoon.
If you could choose a superpower what would it be?
Reading people's minds.
Ski or snowboard?
Ski, though it's been a couple years.
What is your favorite color?
Pink and yellow.
What are three words to describe you?
I would hope that people would say I am kind, funny and caring
If you could change anything about Drumheller what would it be?
Occasionally you can encounter small mindedness. I would like to open those minds up.