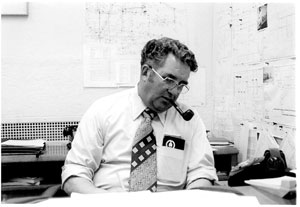 A town lowers their Canadian flag and RCMP gather in red serge only when a hero has fallen, and Drumheller did so when it lost a three term mayor who attracted the monument which put it on the map.

    Bill Doucette was elected as Mayor of Drumheller in 1978 and held the position until 1990 while running Canadian Utilities for 34 years until 1987. In that time, he attracted the Royal Tyrrell Museum and donated land, given to the town from Canadian Utilities, for use as a park behind the Memorial Arena. His wife Irene, the mother of their four children, is currently asking the town to rename the park in his honour.
    "He could talk the birds out of the trees, that boy," says his wife Irene. "He made a good mayor, everybody liked him. A mayor for 12 years and also running a power company, that would've killed anyone. He had a lot on his plate."   
    Doucette's campaign to bring the tourism industry to Drumheller is the reason why Drumheller is on the must see list for tourists travelling through Alberta.
    "He was all for bringing in industry," says Irene, who adds he had ideas of bringing projects like the Badlands Community Facility. "He tried to accomplish a lot, and probably didn't get to finish all that he wanted to do."
    Doucette passed away from an aneurysm on February 17, 1994, at the age of 66.
    Irene believes he received the most gratification with his position from the people.
    "He liked people. He never walked away from anybody, and that's what they liked about him: he was never too busy for people." While he was mayor, he was playing Santa Claus at malls during the holiday season.
    Irene was dining with friends at the Corner Stop restaurant in Drumheller when Bill Doucette walked in.
    "We were sitting with a couple women, and he came through from the other side and they said 'Look at him'. I said, 'don't look at him, that's the man I'm going to marry.' Really and truly, I didn't know what his name was then, but he called me the next day. And that was it."
    They were married in 1948 and remained so until he passed away.
    "He was a wonderful man," says Dr. Boris Nahornick, who volunteered alongside Doucette at Camp Gordon for 25 years, helping give vacations to children who couldn't afford it.