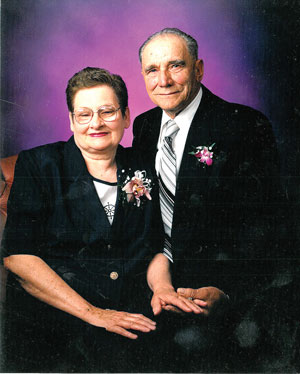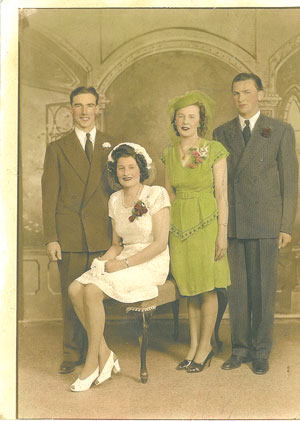 George Wakaruk does not consider himself a Drumheller Hero as is the title of the article, but moreso of being a part of Drumheller heritage or even a bit of a historian. His favorite saying is that, "I have outlived the nine lives of the cat and I am now on the lives of the kittens." He states he knows more people in the cemetery than he does of those he knows who are alive!

    Ivoko Vakaruk or George Wakaruk was born in the family home in Drumheller on July 14, delivered in 1919 by Dr. Graham.  He was the fourth child of immigrant parents Harry and Sophie Wakaruk.
    Sophie and Harry and the three children, Helen, William and John, first came to Drumheller by cattle car from Calgary in 1917 where Harry, like so many before him, started working picking bone in the AB Mine and Sophie practiced midwifery. Newcastle was to be their chosen home because Harry thought the water was good in this area.
    They brought little with them, but his mother insisted on bringing a stone from the Bow River with her because she had heard that though there was a lot of coal, there wasn't a good rock for making sauerkraut. The family settled in Newcastle along the banks of the Red Deer River.
    George has spent his entire 91 years in the Newcastle area and over half a century in the family home, which was built in 1925 and later used as a boarding house for miners. Harry got his wish for good water as the home site had two wells that other families would draw from. His mother was a generous and kind woman - feeding those who were hungry and facing difficult times. She was also a good cook and was well known for her cabbage rolls. She liked horticulture, and had a large garden plot and domestic animals. Harry was also good with money and at one time purchased a large parcel of land from the Vulcan Land Company from England that owned Newcastle land. He then sold one lot to the Ukrainian Labor Temple (now known as the Newcastle) Hall in 1935.
    Newcastle was once called the "Western Front" as it was the "tough part" of the Drumheller area with a large population of boisterous miners and houses of ill repute. At this time it had a mayor, a village council, a post office next to their home mastered by Bert Ransom, a policeman and a jail. Despite Newcastle's reputation, George has many childhood memories of simple games and a simple life spent growing up along the river.
    Many of his childhood memories are of their family Holstein cow affectionately named Bossy. Bossy supplemented the family income by producing 20 quarts of milk that Sophie sold for a dollar. She was Sophie's pet.
    At a young age he was an entrepreneur. He realized the value of a dime and before walking to school, he and his brother John would ferry miners from Newcastle across the Red Deer River to Midland in a rowboat for an early morning shift and return for pickup after school. He said the miners paid the boys well. He recalls building a scuba diving tank out of a 25 gallon milk can encased in a rubber tire with a hose attached to a bicycle pump for air.
    Bobby was the guinea pig and it worked but only for a few minutes. He also believes he holds the upstream swimming record as at the age of 11, he swam against the current from Newcastle Beach to the Midland train bridge in less than a half hour. He also said he could hold his breath for four minutes underwater! He wanted to be a hockey or a ball player as they were well paid for what he thought was three months of work, and the sports figures were admired as being Gods. His career was cut short as he broke his toe when he was hit with a hockey puck, and his finger playing  ball.
    George acted as an errand boy for the illustrious Mary Roper, and her "chippies" who had, as he calls it, an "establishment" near his childhood home. He would run errands for her to the store, cut wood for fires and do odd jobs around her home. He was well paid - often receiving a dime for his efforts.
    Perhaps it was his first toy airplane that provided the catalyst for George's love of airplanes. In 1934, he built an airplane using a model T engine and a prop but was not allowed to fly it. His fascination with the history of flight and all things airplanes remains with him today.
    Like most Drumheller men and their parents before them, George rather than going to postsecondary school after graduating from grade 12, wanted to make money, and the place to make money was in the mines. He worked at the Brilliant Mine beginning in 1938 as a switchman when he was 18 for about eight years. The manager, who he had much respect for, was Joe Sandino. Joe paid the men well when they worked, often $7.00-8.00 a load. George believed in and supported the organization of miners into a union.
    Alberta coal was only shipped as far as Winnipeg as the Americans owned the lease and mines in Ontario. Alberta miners usually worked 3-4 months a year and if they worked 6 months out of the  year they considered themselves as having a good year, whereas their American counterparts worked 8-10 months. George roughnecked during the summer months at various rigs. He also worked in the Commander Mine as a driver and fire boss when Omar Patrick ran the mine.
    He and his two brothers formed, owned and operated the Cozy Coal Mine from 1946-1956, employing about 10 men. The mine is located halfway up the north hill by the airport. "Shorty" was the mine pony that pulled the carts. George was the chief manager with his brothers acting as fire and pit bosses.
    George to this day is a tough man. During a shift, he had his finger cut off by a trigger valve having 300 pounds of pressure. He needed to finish the shift, so he bound the remaining stub, put his finger in his glove and after the shift, walked to the bottom of the Munson hill to get a taxi and then medical treatment by Dr. Walker.
    After the closure of the Cozy Coal Mine, George worked at the North American Mine in Nacmine as an electrician. He only worked at the East Coulee Mine for a few seasons before going to Calgary, where he worked at Hector's Steel as an electrician until gaining employment at the Drumheller Institution in the early 70s.
    He retired in the early 80s and has remained with his wife, Martha, in the original ancestral home in Newcastle. They raised a family of four and he is proud of his Newcastle roots.  Two of his four children call Newcastle home. Today, he finds enjoyment in reading history, aeronautics, doing the crossword puzzle and gardening. He will turn 92 this July and intends on turning 100 living in his family home and the Newcastle community.