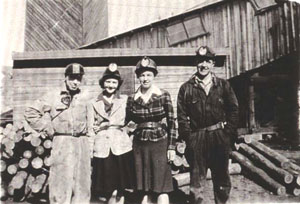 The Atlas Coal Mine shared the heroic tale of William McDonald it received from his daughter Margret Albert (McDonald) with The Drumheller Mail. While his life was cut short at the age of 36 in a mining accident his impact on the community has felt then, and today tells the story of the young families that came from all over to the valley to work in the mines.

William Izatt McDonald (Bill) was born May 7, 1911 in Glasgow, Scotland. He immigrated to Drumheller, Alberta at the age of 16 with his father Thomas McDonald in 1927. His mother and four sisters came later to join them there.
Bill married Patricia Hudson in 1935. They had three children, Thomas McDonald, Billie (Margaret) Albert and Heather McDonald.
Some of the mines that he worked in were the International in Coleman in the Crowsnest Pass and Nacmine, Atlas and Western Crown in the Drumheller Valley.
He held mining related certificates in:
Mine Rescue-25th April, 1935
Examiner's-22nd June, 1936
Overman's-12th July, 1941
He became one of the youngest men in Alberta to qualify and work as a "Pit Boss."
He was a member of the Reserve Mine Rescue Crew and participated in Rescues at the Western Crown Mine in East Coulee.
He was also a part of the Mine Rescue Crew that risked their lives desperately trying to rescue men in the Western Monarch Mine Disaster in 1941. This was one of the most tragic mining disasters ever in the valley. A methane explosion took four lives.
Bill was very active in community organizations and sports groups. In Coleman, he belonged to the Lions Club of Coleman. In Drumheller, he was a Kinsmen and the Editor of the Coal City Kin Newsletter. Soccer, Hockey and Baseball were the sports he participated in both Drumheller and East Coulee.
On November 9, 1933, he dove into the Red Deer River, rescued two children--Gordon and Marjorie Wheatcroft, and was awarded, by the Board of Trade in Drumheller, an Honorary Testimonial that was signed by the Governor General of Canada.
The Drumheller Mail's June 3 1947 edition reported the well-respected pit boss was instantly killed at 11:30 in the morning on July 28, 1947, when he was struck by an underground locomotive at the Western Crown Mine.
His funeral was at Knox United Church and acting pallbearers were fellow Kinsmen Ellis Stone, Thos. Webb, Chas. Brown, Duncan Brown, Arthur O'Dwyer and James Fitzpatrick. Three members of the mine rescue Crew and three employees of the Western Crown Mine were honorary pallbearers.
Margret writes that in June of 2006 that she discovered that one of the volunteers at the Atlas Museum, Jock Calder, was close by her dad when he was killed in the mine.
"In talking to Jock on the telephone it was obvious that he had been very affected by this accident. In a letter to me Jock said that 'Bill was young and full of life, ready to take on the world--He was a man to look up to when you were only 16 years old--Bill shone in mine rescue--He was ALL safety, except for himself.'
My dad made a mistake underground and tragically it cost him his life--June 28th 1947 in the Western Crown Mine, East Coulee, Alberta."
Margret was just 6 ½ years old when she lost her father Dad. She remembers him as a caring, loving father.
"We had him for such a short time. Connecting with Jock was incredibly important to me as I learned so much from him."
She is planning to attend the ceremony for the Fallen Miners Memorial in September.