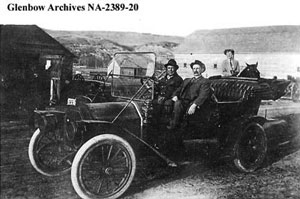 How could we continue our 'Drumheller Heroes' feature without mentioning the man of which our town got its namesake? Even if the name was determined by the flip of a coin.

In the early 1990's Samuel Drumheller, a wealthy businessman and entrepreneur from Walla, Washington, came to Alberta to ranch and grow wheat, was hiking around the Badlands, and reached the homestead of Mr. Greentree.
Travelling with his brother Jerome Drumheller, the door was unlocked, and they went in and made themselves at home. They were surprised to see a bucket of bituminous coal sitting by the stove and wondered where it came from in this isolated valley with little access to the outside world. They figured it must have been a local product, and went outside to follow tracks in the snow to the banks of the Red Deer River, only to find a five-foot coal seam only fifteen feet above the valley floor. They forgot all about the ranch land and returned to Calgary to take out mineral leases in the vicinity.
At this time, it was known the railroad was coming into the valley, and Sam Drumheller wanted to buy Greentree's land for a townsite. On his third trip to the valley, Sam completed the purchase of the land (rumored to be sold for $2,800, which he carried in his shirt pocket), for the townsite.
When a post office was established in 1911, in Mr. Brownjohn's store, Greentree and Drumheller flipped a coin to see whether the new town should be called Greentree's Crossing or Drumheller. Samuel, of course, won.
Drumheller opened his mine in 1912, shortly after the Newcastle mine was opened by Jesse Gouge. The mine worked at a depth of 85 feet and had seams from 9 to 11 feet thick, but only half the seam was worked. It was estimated the mine produced four to five thousand tonnes a day. The Drumheller mine did not remain open as long as others in the valley did.
Information for the article was found in The Hills of Home: Drumheller Valley (Drumheller Valley History Association, 1973).