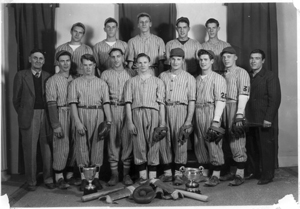 The same face appears in nearly every baseball or hockey photo in the sports pages of Drumheller's history books.

    Elmer Gagstetter's mug is seen in team photos of two of the most legendary clubs to ever play in the valley, baseball's Rosedale Midways and the hockey's Drumheller Miners.
    "So many pictures have him in the background," says Jay Russell of the Atlas Coal Mine, "He must have been an inspirational motivator too. So many of those Miners players went on to the NHL and became Hall of Famers. If he was around today he'd probably be NHL, WHL or 'AAA' baseball calibre."
    Gagstetter worked for, then eventually purchased, Whitlock Lumber in Rosedale after moving to Drumheller in the 30s from the United States. Although not much is written about the personal life of Gagstetter, a search of The Drumheller Mail's archives show he continually managed both his baseball and hockey teams for continual wins. Under his guide the Midways were "walloping balls to all corners of the lot" in June, 1941 on a road trip. He had two daughters and a wife, and was born in 1888.
    Roger Berlando played under "Gag" for both the Midways and the Miners during the 1940s.
    "He was one hell-of-a sportsman, very level headed," recalls Berlando. "In sports here, he was everything, whether it was baseball or hockey."
    Under the management of Gag, the Rosedale Midways were Alberta's junior baseball champions for 10 consecutive years from 1940 to 1950, with Berlando playing for eight of them.
    It wasn't rare for Gag to scout out neighbouring communities such as Trochu and Stettler for the top ball talent.
    Under him Glen Gorbus started his road to the show with the Midways before suiting up for the Cincinnati Reds and Philadelphia Phillies of the MLB.
    "As soon as he got here he was promoting sport, and I imagine we owe a lot of our sports history to guys like Gagstetter," says Russell. He knew we needed something to occupy us."
    Berlando says Gagstetter was a working man who simply volunteered much of his free time to sports in the valley.
    "It was nothing to see 2,000 people watch a play-off game here," says Berlando. "It was everything to us. The whole valley was involved in baseball, hockey too.
    "After Gag left, baseball just died because there was no more interest. The mines were closing down too, people slowly started to move away."
    There were a number of teams from the many mining communities in the valley: Wayne, East Coulee, Rosedale, Nacmine, Midland, and Drumheller's two teams eventually amalgamated into only two teams, which were based out of Drumheller.
    And even that has gotten smaller today, with minor league teams having to play out of Calgary leagues and even resorting to slow pitch softball, which lacks much of the strategy of hardball.
    Berlando believes when Gagstetter left, the leagues fell apart because he wasn't around to keep things going anymore. "He kept everything organized, kept it alive."
    Elmer E. Gagstetter passed away on May 5, 1963 in Drumheller at the age of 75.