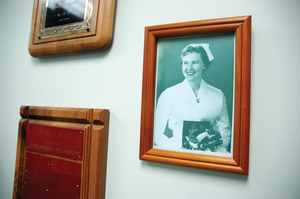 June marked the 13th anniversary of the passing of Gaye Ross, remembered as a compassionate, dedicated nurse and city alderman who left a lasting impact on the community in which she worked.

    Gaye was a registered nurse at the Drumheller Hospital, remembered for achievements such as introducing the Marigold Library System to the Drumheller Library, arranging the planting of trees and installation of lights along the streets of downtown during her two term stint as Drumheller alderman, and her dedication to improving the community.
    "She wanted to be active in the community and saw all kinds of things needed to be done here," says her husband Bob Ross, "and she just kept going."
    Gaye was extremely involved in the community: she was influential in the renewal of the downtown area and being a founding member of the Marigold system brought her love of reading to life while providing Drumheller with a substantial body of literature. She moved to Drumheller from Calgary in November 1963 at the age of 28, already married to Bob.
    "Nurses are all like that, just great people," says Bob. Gaye was proud of being a public health nurse and promoted the role in the community.
    She primarily served in the public health sector providing the community with health education, promotion, and prevention.
    "Gaye was respected and admired by not only the professionals she worked with, but by the people who were privileged to get her for either a nurse or a friend in the community," writes Laura Rutz, who nominated Gaye's name for a Drumheller Heroes piece.
    "It has been said that Gaye lived for her family, the community, and for her love of nursing," said Rutz.
    "She promoted a healthy lifestyle by example. She was often seen at the pool or walking, with sunscreen applied and a hat on her head."
    Gaye passed away on June 3, 1998 at the age of 62, falling to ovarian cancer. She left behind three children.
    One other thing she left behind was a scholarship created in her name the same year she passed. The Gaye Ross Memorial Nursing Scholarship is recognized as a way to acknowledge her passion and to encourage future registered nurses to display the same virtues she possessed. The scholarship remains active and depends on the community's support.