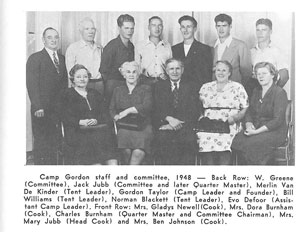 Of all the institutions that has touched the lives of Drumheller valley locals, Camp Gordon stands out as one of the most memorable.
It is hard not to mention the name to a man in Drumheller without their minds filling with images of bonfires, surplus army tents, treasure hunts and ghost stories. For decades, young men of all backgrounds were afforded a summer holiday thanks to the camp.
Gordon Taylor, in his own words, explains the formation of the camp in an interview in the 1985 Canadian Parliamentary review:
"When I was a young man, I never had the privilege of having a holiday. Our summer holidays were spent in the hills around the Red Deer River. Sometimes I would feel rather left out when I went back to school in September and heard my chums talking about trips to San Francisco, Vancouver, and Calgary. When I became a school teacher, I found that many of my pupils were not having a holiday either.
When I was young, I did do a lot of camping and enjoyed it very much. While teaching at Church Hill School in 1931-32, a school chum, Earl Maynard, who is now Reverend Earl Maynard of the Nazarene Church, was teaching in the adjoining school, and he used to drop over and have a cup of coffee on Friday nights. One night he mentioned that nobody in his school was going to have a holiday. Neither he nor I had been used to taking holidays and one of us said, 'Well, let's take them camping!'"
First camps were in Horsethief Canyon and they were coed. According to Pat Sparrow, who was a leader at the camp, this was short lived. Taylor said the mixed camps were held right up until 1940. For two years, they held both exclusive boys and girls camps.
The camp was formed in the early days of the depression. Admission was typically whatever the youngster could bring, be it a sack of potatoes, or garden vegetables. When interviewed in 1985, the camp's spirit was intact.
"The camp continues to this day but now very few bring food, although this year on the application form a mother wrote, 'we can't send money as we are on welfare.' I immediately sent the card of acceptance to her boy and said could he bring a can of sardines or a loaf of bread or a can of pork and beans because then we will be able to say that every boy at this camp has brought something for the camp."
Sparrow, who became Chief Spit-in-the-eye Shot-on-four-sides, due to a potty accident, and a healthy dinner of baked beans, said part of the beauty of the camp was that it was all volunteer, from the equipment to staff and volunteers. He remembers loading up open grain trucks, driven by farmers who would pay for the gas, and they would drive the kids to camp, which had found a residence by then at Pine Lake. The army donated the tents, and everyone pitched in for the week. Campers ranged in ages from about 10-16.
Harry Gough fondly remembers his days at Camp Gordon. As a youth, he was a camper, and as a teen and then adult, was a leader.
"It was good, it was a week off work, and all the leaders had fun," said Gough. "None of us got paid, but they fed us well when we were there. The cooks would just work their tails off, all for free."
He remembers ball games, boating, and treasure hunts, and of course the bonfires.
"Danny Mclean would leave a truck out there so the kids could go and get fire wood," said Gough. "Each group of tents was to put on the bonfire each night and then put on skits and plays. Gordon Taylor would always tell ghost stories right before they were put to bed; usually it was a serial so you would get a little each night. The leaders would hide in the bushes and act out the sound effects."
Incidents were minimal, are often the biggest crisis was homesickness. The campers and well taken care of. Dr. Narhornick was a member of the camp staff, as was dentist Dr. Fodor. There were also nurses.
The camp existed for decades, but eventually it met its demise. Gough explained the expense of insurance took a toll on the camp. Sparrow adds that bussing rather than farm truck also made transportation cost prohibitive. The camp eventually had to fold up its tents.
"It was a shame because it was the kids that suffered," said Gough.
What lives on are the memories.
"When you talk to people who were there as kids they are all going to give you glowing stories," said Gough.