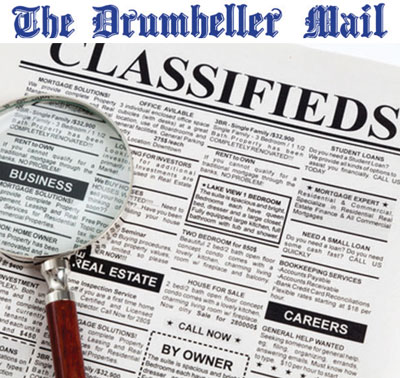 COMING EVENTS
Annual Big Valley Christmas Craft Show and Sale, Saturday November 16, 10 a.m..-3p.m. Big Valley Community Hall
IN MEMORIAM
In loving memory of
BEN HAGG
October 30, 1992
He has gone to be an angel
Secure in our Father's care
A silent thought, a silent tear
Keeps his memory ever dear.
Loving and missing you always Dad.
Your loving family
SERVICES
HOUSE CLEANING
Call Judith
403-978-2330
PAINTER
Fall has arrived... Will paint your house or building. Interior or exterior. 31 years experience. 10% off quotes. Very low rates. Phone Ken at 403-821-0823 or 403-823-8140.
FOR SALE
FIREWOOD
WOODCHUCKERS... Pine and Birch Firewood for sale. Delivery available. 403-318-5314.
MISCELLANEOUS
Need Some Winter Tires??
4 - 265 70R 17, Michelin Latitude X ICE (lots of tread) on nearly new custom rims. $1250.00 firm. Call 403-823-2580 days to view.
RENTAL PROPERTY
MEXICO PROPERTY FOR RENT
FOR RENT... in Barra de Navidad, Jalisco MX. 20 minutes from Manzanillo airport. 2 bedroom furnished non-smoking upper apartment, share pool and roof top Palapa with older couple 5min walk to beach and restaurants. $1500 CAD monthly, includes utilities. Available for month of December, 2019 and March 2020. email: bfreeman57@icloud.com
HOUSE FOR RENT
Century 21 manages over 100 rental properties. 1, 2, and 3 bedroom homes and suites for rent. Check out www.rentdrumheller.ca for a list of current properties for rent & apply online at www.rentd.ca on your phone or home computer. 403-823-2121 M-F.
APARTMENTS FOR RENT
FOR RENT... Juniper Manor 1 and 2 bedroom suites available. Includes free heat, free water, parking, air conditioning, coin laundry. No children. Phone 1-403-856-4401.
FOR RENT... Quadra Manor 1 and 2 bedroom suites available. Includes free heat, free water, parking, air conditioning, coin laundry. No children. Phone 1-403-856-4401.
FOR RENT... Sage Manor 1, 2 and 3 executive suite bedroom apartments located at #333 - 2nd Street East. Mature adults only. No smoking. Available immediately. View at sagemanor.com Call 403-823-0964.
Hunts Place
Apartments
(Corner of Hunts Dr. & 2nd St. East)
• Quiet, adult oriented
• Security door & intercom
• Garden patios or large balconies
• Laundry facilities
• Parking with plug in
• Fridge, stove, window coverings,
hot water & heat
• WiFi hotspot
• No smoking
www.wix.com/writem5/hunts-place
Phone 403-443-1471
SUITE FOR RENT
FOR RENT... Delia area. Shared kitchen, furnished basement suite, large heated, insulated shop. Rent negotiable/exchange fore handiman services. 780-991-8435.
REAL ESTATE FOR SALE
HOUSE FOR SALE
HOUSES FOR SALE - Can't find it here or on MLS? Check out www.powerrealty.ca.
FARMER'SMARKET
FARMLAND/PASTURE WANTED
WANTED... Cultivated farmland in the Drumheller area for cash rent or sale. 403-321-0214.
WANTED... Farmland to rent in Drumheller, Dalum, Verdant Valley or Delia area. Phone 403-823-9222; 403-334-3644.
LAND FOR SALE BY TENDER
LAND FOR SALE BY TENDER
The following briefly describes property offered for
sale by tender.
Description of Bishop Land:
Parcel A- is 724 + or- acres with 1 water well, on the
east side of Seiu Lake. There is an abundance of water
as the land surrounds the lake. The property is north
and east of Hussar AB in Wheatland County.
Parcel B- is 456 + or- acres, on the west side of Seiu
Lake. Included with this parcel is a beautiful treed
farm yard; which has two houses, 2 shops, 2 water
wells, new barn with corrals and cattle handling
system, some bins and other out buildings.
This is a total of 1180 more or less deeded acres for
sale. Would prefer to sell property as one parcel of
land. Would certainly consider selling parcel A and B
individually.
For further details please contact Colby Bishop at
(403) 321-0359 or Lorne Bishop at (403) 321-0448.
Tenders in writing will be accepted by lawyer no later
than 4:00 p.m. on Friday, December 13, 2019.
Included with the sealed tender marked, "Bishop
Tender" a 10% deposit in form of bank draft or
certified cheque payable to Schumacher Gough
& Company In Trust. The balance of the purchase
price is required by Friday, January 24, 2020.
Tenders should be delivered to the office of:
Schumacher Gough & Company
Attention: Mr. Harry Gough
196 3 Ave. Drumheller, AB. T0J 0Y0
Phone# (403) 823-2424
Deposits of unsuccessful tenders will be returned.
The only cheque to be cashed will be the one from
the successful tender, and the others will be returned
uncashed. The highest or any tender not necessarily
accepted.
EMPLOYMENT
HELP WANTED
CASUAL EMPLOYMENT... Looking for general custodian for our ATCO Storage Facility. 12 hours per week. Must have a High School Diploma or GED, be bondable, pass a security clearance check. Provide 2 related references. Please contact: Ken Cousins, Operations Supervisor, Carbon Storage Facility, 403-572-3622.
ANNOUNCEMENTS
AL-ANON, Wednesday evenings, 6:30 pm, Telus Bldg, 4th Floor. Call Lynne (403) 822-0008 or Carol (403) 772-2373.
Saturday Sunrise Meeting, Alcoholics Anonymous, 9 am, Knox United Church. Contact Helen 403-823-5593.
THE HAPPY DESTINY Alcoholics Anonymous Group meets every Monday at 7 p.m. in the Badlands Room at the Drumheller Health Complex. "Open Meeting".