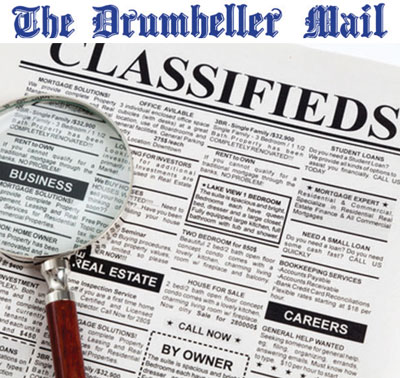 GARAGE SALES
DRUMHELLER
GARAGE SALE... Greentree Elementary School will be having a garage sale on Friday and Saturday, October 25 and 26 at the school. We will be offering a variety of surplus items, including desks (student and office), tables, filing cabinets, children's toys, and other assorted furniture. Donations for all items will support student food programs.
Hours:
Friday, October 25
3:30 PM-5:30 PM
Saturday, October 26
9:00 AM-12:00 PM
COMING EVENTS
AGM... Annual General Meeting of Peggie's Feline Rescue Society will be held at Heartwood Inn & Spa, 320 North Railway Avenue East, Drumheller, Saturday, October 26, 2019. Meeting begins at 6:30 p.m. Everyone welcome. 403-822-3191.
IN MEMORIAM
Jeremy Cyriel
BAEL
July 1982 - October 2008
If I had one wish to make
I'd use it up on you
Just to see you one more time
In the heavenly sky so blue
All I have are memories
The good ones and the bad
The day you finally let it go
And left me more than sad.
I wish that you could come back here
And fill back up this hole
You put it there years ago
When you body left your soul.
You always made me feel special
You were always there it seems
But after all this is too big
It's only wishful Dreams.
Love always,
Liss
SERVICES
HOUSE CLEANING
Call Judith
403-978-2330
PAINTER
Fall has arrived... Will paint your house or building. Interior or exterior. 31 years experience. 10% off quotes. Very low rates. Phone Ken at 403-821-0823 or 403-823-8140.
WANTED
WANTED... Senior guitarist/Bass to accompany Big Band Music Trio. For more information call Joanne 1-403-823-6474 after 6 p.m.
FOR SALE
FIREWOOD
WOODCHUCKERS... Pine and Birch Firewood for sale. Delivery available. 403-318-5314.
MISCELLANEOUS
Need Some Winter Tires??
4 - 265 70R 17, Michelin Latitude X ICE (lots of tread) on nearly new custom rims. $1250.00 firm. Call 403-823-2580 days to view.
RENTAL PROPERTY
HOUSE FOR RENT
Century 21 manages over 100 rental properties. 1, 2, and 3 bedroom homes and suites for rent. Check out www.rentdrumheller.ca for a list of current properties for rent & apply online at www.rentd.ca on your phone or home computer. 403-823-2121 M-F.
APARTMENTSFOR RENT
FOR RENT... 809 - 6 Avenue East. 4 Plex unit, 2 bedroom and den with 1 1/2 baths. 1000 sq. ft. includes fridge, stove, washer and dryer. The unit has a private entrance. Available November 2019. $700.00 per mont plus utilities. Non smoking. References required. Call 403-823-3760 or 403-823-1875. Email rpage@magtech.ca 41c43
FOR RENT... 1 bedroom apartment in a 12 suite building downtown. $725.00 per month including heat and water. Damage deposit $500.00. Adult building, no pets, no smokers. Available November 10. Location lower floor. For details or to view, call 403-823-3760 or 403-823-1875.
FOR RENT... Juniper Manor 1 and 2 bedroom suites available. Includes free heat, free water, parking, air conditioning, coin laundry. No children. Phone 1-403-856-4401.
FOR RENT... Quadra Manor 1 and 2 bedroom suites available. Includes free heat, free water, parking, air conditioning, coin laundry. No children. Phone 1-403-856-4401.
FOR RENT... Sage Manor 1, 2 and 3 executive suite bedroom apartments located at #333 - 2nd Street East. Mature adults only. No smoking. Available immediately. View at sagemanor.com Call 403-823-0964.
Hunts Place
Apartments
(Corner of Hunts Dr. & 2nd St. East)
• Quiet, adult oriented
• Security door & intercom
• Garden patios or large balconies
• Laundry facilities
• Parking with plug in
• Fridge, stove, window coverings,
hot water & heat
• WiFi hotspot
• No smoking
www.wix.com/writem5/hunts-place
Phone 403-443-1471
ROOM FOR RENT
FOR RENT... Greentree area, $320.00/month, bedroom in quiet, clean, bi-level house. Non-smoking. Utilities & internet included. adso@shaw.ca
SUITE FOR RENT
FOR RENT... Delia area. Shared kitchen, furnished basement suite, large heated, insulated shop. Rent negotiable/exchange fore handiman services. 780-991-8435.
REAL ESTATE FOR SALE
HOUSE FOR SALE
HOUSES FOR SALE - Can't find it here or on MLS? Check out www.powerrealty.ca.
FARMER'S MARKET
FARMLAND/PASTURE WANTED
WANTED... Cultivated farmland in the Drumheller area for cash rent or sale. 403-321-0214.
WANTED... Farmland to rent in Drumheller, Dalum, Verdant Valley or Delia area. Phone 403-823-9222; 403-334-3644.
CARD OF THANKS
THANK YOU... The family of Tony Kollman wish to thank everyone for the kindness, condolences and support we received. Thank you to the friends and neighbours who stopped by to visit, brought food, sent flowers, phoned and reached out in so many ways. Your kindness and support have been a great help and comfort to us. Grateful thanks to everyone who attended the funeral and all donations to charity. Thank you to Fr. Lukas Drapal, Celebrant, mass donations and your prayers. We gave Papa Tony a fond farewell.
Rest in Peace,
Jeanette,
Brian and Linda,
David and Andrea,
Tim and Lori and family
ANNOUNCEMENTS
AL-ANON, Wednesday evenings, 6:30 pm, Telus Bldg, 4th Floor. Call Lynne (403) 822-0008 or Carol (403) 772-2373.
Saturday Sunrise Meeting, Alcoholics Anonymous, 9 am, Knox United Church. Contact Helen 403-823-5593.
THE HAPPY DESTINY Alcoholics Anonymous Group meets every Monday at 7 p.m. in the Badlands Room at the Drumheller Health Complex. "Open Meeting".