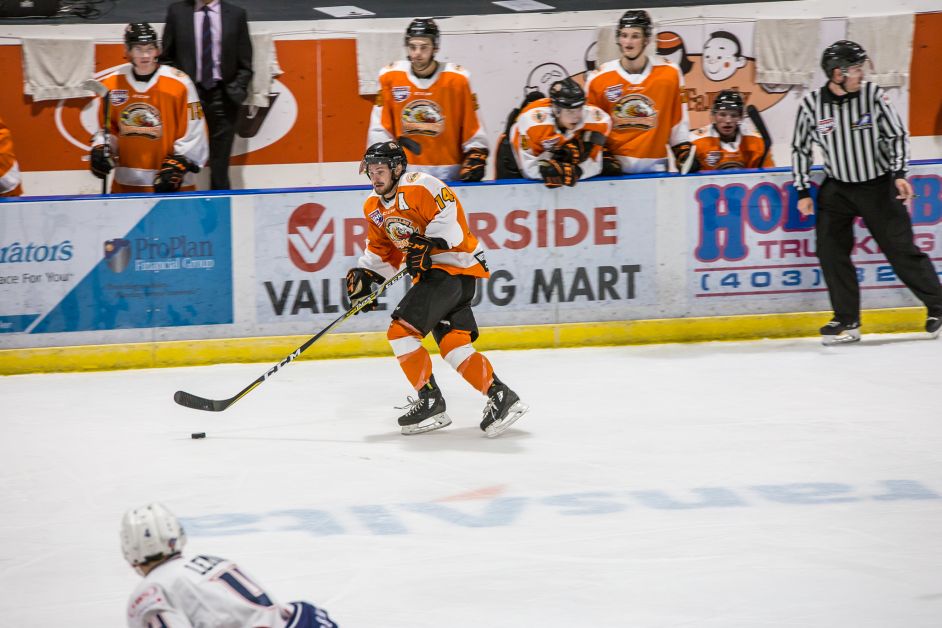 It was an exciting week for the Dragons. Not only did they welcome their first signing of the 2019-2020 season but Jordan Taupert also became the Dragons all-time career goal-scoring leader.
They also earned four of a possible six points with a win and two overtime losses.
On Tuesday, January 15, the Dragons hosted the Okotoks Oilers. On the bench with the Dragons that night was Nickolas de Beurs. The 17-year-old from Cochrane has signed a letter of intent to play with the Dragons come next season.
"We are very excited Nick and his family have chosen the Dragons," said Coach Kevin Hasselberg. "Nick's values align with ours and we are confident his transition from midget to junior will be with relentless preparation and a lot of hard work. Nick's effort in games played with us already this season has shown he has the abilities to be a successful Alberta Junior Hockey player."
On the ice, the Dragons jumped ahead with a goal from Tory Dudley 10 minutes in, but the Oilers tied it up to end the first period.
The Oilers then went on a two-goal streak in the second period, but a goal with a minute left from Kiano Robinson put the Dragons back within reach trailing 3-2.
Brett Edwards scored three minutes into the third period to tie the game, this forced overtime where Okotoks scored 48 seconds in for the win.
On Friday, January 18, the Dragons were in Camrose. Roc Truman scored at the 9:40 mark shorthanded to take an early lead. Less than two minutes later the Kodiaks tied it. The Dragons took a 3-1 lead in the second period with goals from Eric Martin and Derrick Budz, respectively.
In the third period, the Kodiaks scored three straight goals to take the lead but with 14 seconds left Bryaden Nicholetts scored to force overtime. Just 26 second into extra time the Kodiaks took the win.
On Saturday night, the Dragons were in Olds to take on the Grizzlys. After a scoreless first period, Brady Risk put the Dragons on the scoreboard. This was followed in short order by Taupert who scored his 66th career goal becoming the all-time leader. This topped Derek Werenka's record set in 2007. Taupert is also the Dragons all-time top point getter and all assist leader.
The Dragons' scoring continued with Roc Truman and Brett Edwards finding the net, winning 4-1. The Dragons outshot the Grizzlys 42-27 and were 40 per cent on the powerplay.
The Dragons are in Spruce Grove on Wednesday, January 23, but back on home ice on January 25 to take on the Canmore Eagles.