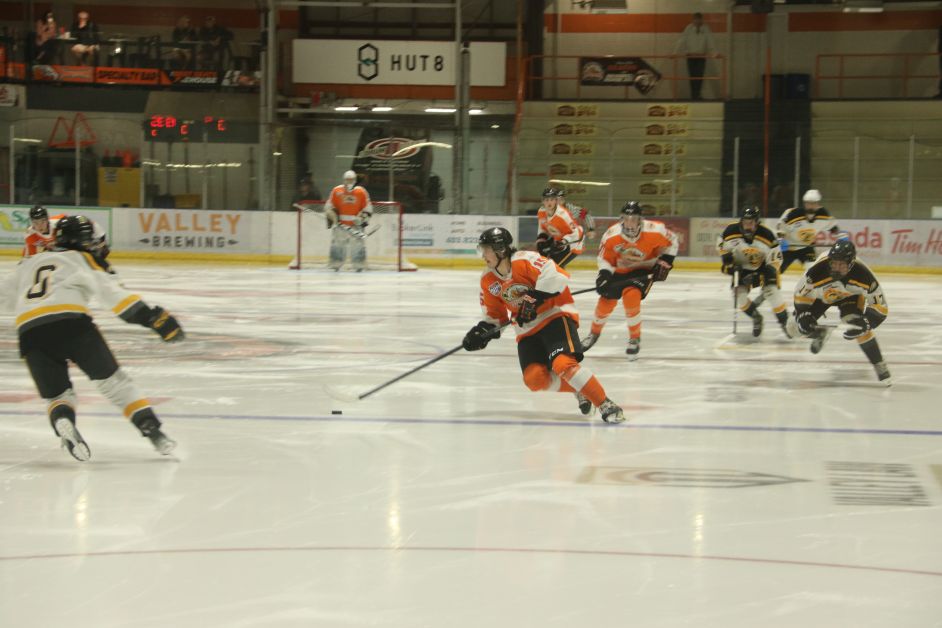 The regular season begins this week for the Dragons after wrapping up the exhibition season against South Conference teams.
On Wednesday, September 6, the Dragons were in Calgary to take on the Canucks. Calgary started strong and was up by three goals before Jacob Padgett scored his first as a Dragon. The Canucks scored again and were up 4-1 after two. Connor Poffenroth added a goal to open the third period, but Calgary answered back with three more goals to go on to a 7-2 win.
The Dragons were in Olds on Friday, September 9 to take on the Grizzlys. This time, the Dragons had the jump out of the gate and were up two after one period with goals from Poffenroth and Adam Raesler. In the second period, Van Yuhas, Jordan Luk, Spencer Claerhout and Austin Osiowy all added to the tally, going up 6-0. Ryan Henderson added one early in the third before the Grizzlys got on the scoreboard. Luke McPhee added one more, and Yuhas put in his second to go on to a 9-1 win. The Dragons outshot the Grizzlys 36-22.
On Saturday night, the Dragons wrapped up the pre-season with a home stand against the Grizzlys. It was a back-and-forth game, but the only scoring came from the Grizzlys, who scored with 57 seconds left in the first period.
The Dragons open the regular season with a road trip this Friday, September 15, when they go to Bonnyville to play the Pontiacs. The next night they are in Lloydminster, and on Tuesday, September 19, they face off against Blackfalds. Their home opener is Friday, September 22, when they host the Whitecourt Wolverines.