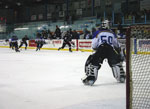 The hockey season is now at the half way mark for Drumheller Minor Hockey, but several of the valley's teams are holding strong in the standings.
Drumhellers Novice Tier 2 team is currently sitting in a tie for first in the Central Alberta Hockey League, with seven wins and only one loss.
On January 4, the Novices played in Brooks, taking home an 8-4 win. Tyler Cardamone opened the scoring for Drumheller and continued on to score a hat trick, and then one more late in the third to give Brooks a 4 point deficit.
Drumheller's Peewee Tier 2 Greene Construction Raptors have strong numbers with six wins and two ties as of their last game in Airdrie on January 4. The Raptors beat out Airdrie with an overwhelming tally of 13-2, following a 5-5 tie against Carstairs the evening before.