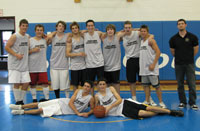 The U17 Badlands Basketball travel team was victorious over some premier teams at a tournament in Lethbridge over last weekend.
    This was the second and final tournament for the travel team this year. The team was joined by Brandon Gruber to play in the tournament.
    The team suffered a loss to the Cougar Club, a team made up largely of players from Catholic Central in Lethbridge, but went on to beat the Junior SAIT Trojans team and teams from Regina and Claresholm.
    They made it to the final to meet the Cougar Club again and this time were victorious.
Coach of the U17 team Chad Pidhaichuk told The Mail the team did it on defense.
    "We won because of defense. Against the Trojans, we were down by 10…and we came out in the second half and just shut them down," said Pidhaichuk. "We are more physical, we are tough and work harder under the basket. It is so frustrating for the other teams."
    The U13 Badlands Basketball team were also in action in Lethbridge. Under the guidance of Tyler Fournier and Mitch Smith, the team won versus U13 from the Lethbridge Minor Basketball Association. Pidhaichuk explains they have a strong core of players in Grade 6, and are often playing much more experienced players when lumped in at the U13 level.
    "If we could keep that group together they are just going to be amazing. They are all amazing athletes and all have good sport-sense and basketball sense," said Pidhaichuk.
    This is the end of the season for the travel teams, while the club teams will continue for another few weeks.
    Next up is the Badlands Basketball summer camp. The general camp, open to players ages 10-17 to work on fundamentals, is slated for July 12-15. The elite camp, geared towards high school aged players, is set for August 23-26. This camp works on development of team and individual skills to prepare for the upcoming school seasons.