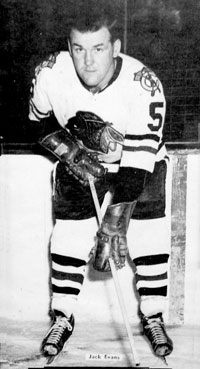 It was 49 years ago that Jack Evans, the boy from Wayne, and his gritty defense helped the Chicago Blackhawks win the Stanley Cup.
It took 49 years before the team ended that drought, and coincidentally, three days after the victory, Jack Evans was inducted into the Alberta Hockey Hall of Fame.
Evans who passed away in 1996 was officially inducted posthumously on Saturday, June 12 at a ceremony in Red Deer. His brother Luther accepted the honour with his wife and two sons. Jacks' brother Glen was unable to attend but his son attended the event.
A rugged defenseman, Jack played in the NHL for 14 seasons and then coached for eight more. He worked his way into the league with the New York Rangers. It was with the Blackhawks that he played along side of Bobby Hull, Pierre Pilote and Stan Mikita. The team won the Stanley Cup in 1961.
Evans was nominated to be inducted by Brent Pedersen. To be nominated, the person must have lived in Alberta for at least five years, must have personal and professional accomplishments in the game of hockey, must have made an impact in the game beyond a local or regional level and must have received significant other recognitions. Nominations could be made for either an individual or team active or retired.
Jim Fisher of Drumheller emceed the event at the Capri Hotel and Convention Centre on Saturday, June 12. What stood out for him was the induction happened just days after the Blackhawks ended their championship drought.
"Last time they (Blackhawks) won he was one of the stalwarts on defense for the team," he said. It was very pleasant to see that happen."
Evans is among three inductees in the achievement categories, which also includes the 1977 to 1980 University of Alberta Golden Bears and the 1970-1971 Red Deer Rustlers.
The induction happened on the same weekend as Alberta Hockey's annual General Meeting. Drumheller's George Kallay was elected as Zone 6 director.