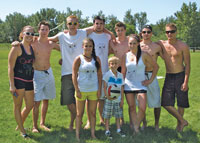 In all 14 teams bumped, set and spiked their way to raising about $400 for kidney research in the name of Daylen Ostopowich. 
Last Thursday, July 8 the second annual summer volleyball tournament organized by Jenn Potter went at the Newcastle Recreation area. Last year the funds from the tournament supported her school's volleyball team. This year, as she graduated, she decided to put the funds towards something more altruistic.
Last week's edition of inSide Drumheller brought readers the story of Daylen Ostopowich. He suffers from Nephrotic Syndrome. He and his family have begun a kidney research fund in Daylen's name to raise funds for the Roy and Vi Baay Chair in Kidney Research.
Jenn says she learned of Daylen's story and it inspired her to put the funds from the tournament towards the cause.
There was some great action on the grass courts as teams went four on four to win the top prize, and to raise funds for a good cause.
To support the fund, organizers fired up the barbecue and served up burgers for players and spectators alike. Potter said they are grateful to Encana, which supplied the barbecue. IGA supplied ice water, and Potter Denture Clinic, Hi-Way-9 Express and Jim and Morag Gallion supplied the food.
  In the end, the team of Joey Browning, Kirby Travis, Jasmine Mraz, and Matt Mohan beat out the team of Dylan Schellenberg, Trent Ouellette, Cole Cheveldave and Sean Davies to win the championship.