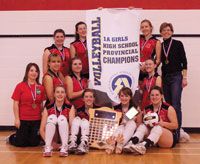 Six provincial titles in six consecutive years? Can't do much better than that.
The senior girls Standard Rams did just that over the weekend, beating St. Mary's of Taber in the 1A provincial volleyball finals, and securing a sextet of championships since 2003.
"The girls believed in themselve, believed in each other and worked very hard this season," said coach Susan Moncks. "They were true ambassadors of Standard School, the communities it serves and of Golden Hills."
Last weekend they were unstoppable all day Saturday in Provost, and the momentum started against the home team, St. Thomas Aquinas.
"Going into the semifinal we were a little bit concerned going against the hometown team," said coach Moncks.