Hockey fans have cause to celebrate this weekend.
On Saturday, September 14, the Drumheller Dragons will make their first regular season appearance at home. The puck drops at 7 p.m. at the Drumheller Memorial Arena.
There are a number of fresh faces on the roster this year, but fans will recognized quite a few veteran Dragons, including Ryan Suchorab, Mitchell Cook, Tyler Kerner, Colton Vannucci, Hunter Mills, Tyler Poskus, and Dakota Zaharichuk.
Drumheller's very own Shayne Gwinner will take to the ice in the orange and black as well.
The Dragons started the regular season last weekend with two wins, 5-1 over the Canmore Eagles and 3-1 over the Camrose Kodiaks.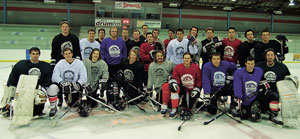 The Drumheller Dragons are preparing for their home opener on Saturday, September 14, at the Drumheller Memorial Arena. The Dragons began the regular season with two wins last weekend and the Dragons will be looking to keep the momentum building when they face the Brooks Bandits tonight and the Camrose Kodiaks on Saturday.
The home opener on Saturday will feature a rematch between the Dragons and Kodiaks.
Everyone is welcome to attend and cheer on the Dragons as they embark on another roaring season in Drumheller.