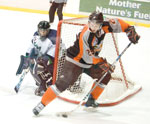 Drumheller wanted to keep their four game winning streak alive, when they faced the Calgary Canucks on October 21.
The Dragons picked up two of a possible six on a week on the road, first stop; Calgary.
Drumheller opened the game with a power play goal in the first from Robert Nocera.
Sean Pollard from the Canucks tied it with a minute and 50 seconds left from a power play goal.