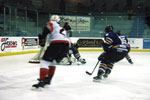 The Drumheller Dragons have turned their game around, racking up three wins this week, showing the offensive prowess crowds witnessed at the beginning of the season.
In a flurry of fresh players entering the Dragon's den, the team has been revitalized and at the top of their game.
"There have been a lot of new faces in here the last few weeks," coach Rob Hegberg said. "It has taken time to get our chemistry back."
After losing 4-1 to the Brooks Bandits Tuesday, December 2, the Dragons quickly bounced back to beat the Calgary Royals at home and in Calgary.
The Royals, holding last place in the south, were outmatched and outplayed Thursday and Saturday, to a score of 7-1 and 9-3 respectively.