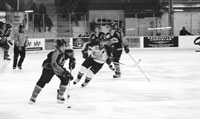 The Drumheller Dragons notched another win in Calgary against the "struggling" Royals, following a tie and a win that has ended their rough start coming into the new year.
Out-shooting and out-playing, the Dragons took home a 6-2 win against the Calgary Royals last Wednesday, a team the Dragons traditionally bury with points.
"I thought we played pretty well, obviously playing against a team that is struggling a bit. We played a puck possession game and used a lot of our speed and skill to create opportunities, and capitalized on that," head coach Rob Hegberg said about the game with the Royals.
Again in Calgary, on Friday, January 23, the Dragons took on the Canucks. Robbie Nocera, who is playing for the southern All Stars in Calgary on Saturday, opened the scoring a minute into the period, followed by another All Star, Jeff Young, to score unassisted in the first.