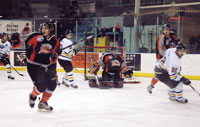 The Dragons put the brakes on their recent winning streak when they were taken down by the Kodiaks last weekend.
Only seven games away from leaving the regular season, the Drumheller Dragons had been frantically tallying up wins, with five wins to four losses and one tie in their last ten games.
Their 3-0 shutout loss in Canmore on Saturday nudged the Kodiaks one point above Drumheller's 53 points, knocking the Dragons down to sixth in the southern standings.
Marking their first shutout since mid-January, the Dragons outshot the Kodiaks but could not find the net, as Camrose scored twice in the second period, one shorthanded, and again with five seconds left in the third on Drumheller's empty net.