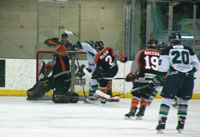 The Dragons need to dig deep and find the fire they were breathing just weeks ago as they approach the homestretch of the season.
There are only four more games on the regular season schedule, and while the Dragons are in no danger to miss the playoffs, they have dropped the last four games. Moving up one spot in the standings may make their playoff hopes a little brighter.
"We're four back of Camrose and we play them (tonight). It will probably tell the tale whether we have a chance to move up," said Coach Jason Hegberg.
On Tuesday night, February 10 the Dragons hosted the Calgary Canucks. From start to finish Drumheller outplayed the Calgary team dominating ice time in the Canucks' end, and out shooting them in every period. Despite this, at the end of regular time the game was tied. The Dragons' goal came from Cam Lamoureux in the second period, assisted by Trent Colberg and Robert Nocera. Less than two minutes into overtime, Calgary scored.