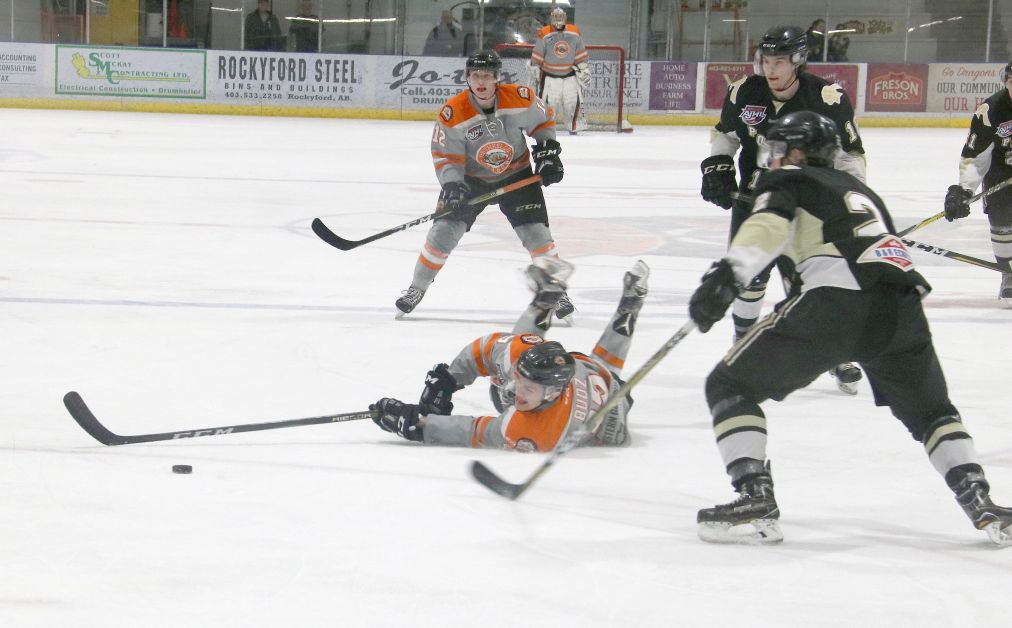 The Dragons had a winning weekend at home, with strong victories over Lloydminster and then the Bonnyville Pontiacs.
The Lloydminster Bobcats were in Drumheller Friday, November 24 to take on the Dragons in front of 468 fans. It was a tough physical game and the Dragons jumped out by two goals; the first by Tyler Kreklewich seven minutes in, and then Brett Edwards seven minutes later. The Bobcats scored one to end the period 2-1. Brady Risk put the Dragons up 3-1 in the second period with four minutes remaining.
In the third period, Edwards scored his second goal on the powerplay at the 10:52 mark. Lloydminster scored once more before Kaden Hanas sealed the score 5-2 with 45 seconds left.
"There were two physical teams going head to head, and we don't back down from a battle on a normal day," said coach Kevin Hasselberg. "I don't think it was dirty or inappropriate play, I just thought it was hard. It was good Canadian hockey."
"We aren't the biggest team, but our guys played big. I think they backed each other and held each other accountable with that part of our identity."
On Saturday night, the Dragons hosted the Bonnyville Pontiacs. Just 3:05 minutes in Slater Dykema opened the scoring on the powerplay, and then Jordan Taupert put them up 2 to end the first period.
The Dragons outshot the Pontiacs 15-10 in the second period, however, it was the Pontiacs who scored to end the period 2-1.
It was a back and forth game through the third period, but the Dragons held them off for the win. Hasselberg was impressed with the goaltending.
"I thought both goaltenders made highlight reel saves in that hockey game. When we put the pressure on Silvestre (Pontiac's goalie), he was able to keep them in the game, and when they came down to our end with a scoring chance. Dane was there to match him save for save, so definitely a good display of goaltending."
The Dragons open December, this Friday, December 1 at home versus the Calgary Mustangs and then next Tuesday, December 5 host the Calgary Canucks.