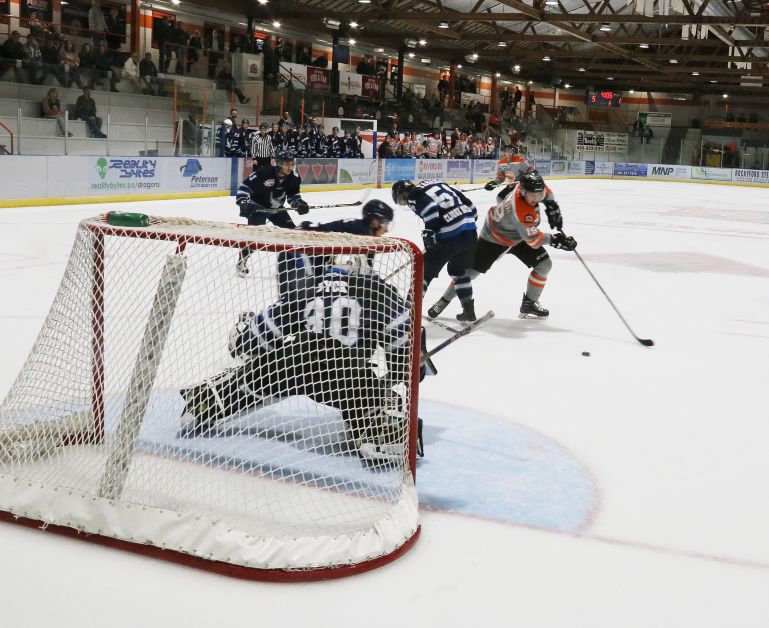 Last week the Dragons were in two very different games with two positive outcomes as they completed a two-game series sweep versus the Olds Grizzlys.
Last week "The Mail" reported of the 8-2 come from behind drubbing given to the Grizzlys by the Dragons, including three powerplay goals.
"I think we have proven 10 games into the season that our special teams have been consistent and strong," said coach Kevin Hasselberg. "I know if I were preparing to play against our team, it would be something that I would pay attention to closely."
It was a much different game last Saturday night when Olds came back to play.
"In the second game they had some key pieces back in the lineup," said Hasselberg.
"They got their starting goaltender and their captain back in the lineup. They made a couple transactions since then including adding a late Western Hockey League release, so they had a much different look to their team."
Just 3:11 into the game, Dawson Bruneski scored unassisted to put the Dragons up 1-0, and then just over halfway through the second, Brett Edwards scored one powerplay goal to end the second 2-0.
In the third period, Joren Patenaude put the Dragons up 3-0 shorthanded.
"I thought it was a dangerous game that we had complete control of, outshooting them and out-chancing them badly, but it was one of those games that if they got one opportunity they would seize it, and they did," said Hasselberg.
The Grizzlys rattled off three straight goals in 10 minutes, tying the game and forcing overtime.
With only 38 seconds left in the first overtime period, Edwards scored the winner assisted by Brady Risk.
"Hats off to our guys for not losing our composure and coming out with two points," said Hasselberg.
The Dragons outshot the Grizzlys 47-21. Hasselberg credits a strong performance by Grizzlys' goalie Andrew Henderson.
"He was sharp against us, he has had some inconsistencies but he is definitely a difference maker for that hockey team. When he is in the line-up they play better," said Hasselberg.
Coach Hasselberg says he likes how this team is showing continuous growth.
"That is one thing about our hockey team, they do value the experiences they have had and each one has given us a little bit more to build from and make our team better for it," said Hasselberg.
Update: The Dragons played the Calgary Canucks on Tuesday, October 10 and fell 4-2. Brody Medeiros and Markus Boguslavsky scored for the Dragons.